By: Kathy Witt
You might think the name, "Skullbuster," would warn people away. But for mountain bikers, the descriptive moniker works like a magnet to pull riders to this backcountry treasure for one exhilarating and unforgettable experience.
"Skullbuster is not a beginner trail," said Mike Mitchum, a board member with the Kentucky Mountain Biking Association (KyMBA) and a Skullbuster steward who has been riding the trail for eight or so years. "But for the rider who enjoys a challenge, it does not disappoint. There is a lot of climbing and a lot of technical rooty sections that can be demanding.
"This and the remoteness of the trail system set it apart from other nearby trails."
**Jon Strom, chapter president of the Bluegrass Chapter of the KyMBA, bikes Skullbuster.
Located near Stamping Ground and accessible year-round, Skullbuster is rated as moderate and guaranteed to keep riders focused. The driving force behind the trail is the Bluegrass Chapter of the KyMBA.
"We are a volunteer organization that works to improve off-road trail access and advocate for the sport of mountain biking in the Bluegrass region of Kentucky," said Jon Strom, chapter president. "Skullbuster is one of our six trail systems and is entirely maintained by volunteers and trail stewards from KyMBA Bluegrass."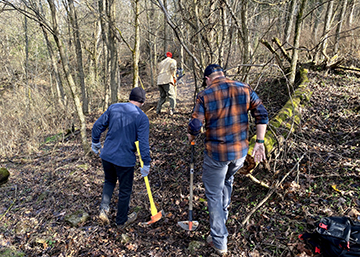 **It takes a village of dedicated volunteers to maintain and preserve Kentucky's mountain biking trails.
Along with those rooty sections Mitchum noted, the 11.7-mile loop Skullbuster Trail throws everything Kentucky mountain biking has at riders: limestone rocks, hidden meadows, a mix of natural and manmade challenges and what Strom calls "lung-busting climbs; fun, fast descents; and a one-way directional downhill with a lot of challenging features to keep you on your toes." And bikers love it.
"I have seen license plates and met riders from all over the country at the trailhead," said Mitchum. "Some were there visiting family or passing through and either heard about the trails from word of mouth or found them using an app. But just as often people come from neighboring states specifically for the experience of riding at Skullbuster. Many of the riders stay for lunch or visit Country Boy Brewing for an after-ride beer."
"We believe our trails have seen an explosive growth in out-of-staters discovering them plus the great atmosphere of small-town charm," added Kevin Fiddle, also a trail steward, who has been involved with Skullbuster since its inception over a decade ago.
Tending the trail
Mitchum grew up on bicycles, riding BMX – the bicycle motocross cycle sport performed on BMX bikes – and competing in freestyle events as a teenager before moving onto mountain biking and cross-country racing and then downhill mountain biking while living in California. It was here that he first got involved with trail work as a way to give back. In 2003, Mitchum returned to Kentucky and has been riding and helping with trail work ever since.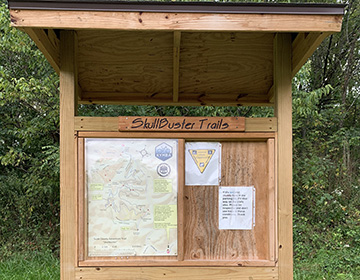 "Most of what I do is help Kevin coordinate trail work days and help with weed eating, updating maps and signage and occasionally working on adding new trails or re-routes," said Mitchum. "Most of the building of new sections happens in the winter months and the summer involves general maintenance and clearing downed trees and limbs as needed."
"I was fortunate to be with the group from KyMBA that got the ball rolling for the trail system," said Fiddle, who has been mountain biking for most of his life.
Fiddle has been trailbuilding for more than 15 years, participating in everything from scouting and laying out the design based on landmarks or waypoints to ensuring the layout avoids falls line that could cause future erosion and adding features that complement the terrain.
**KyMBA Bluegrass Member Casey Hill tackles a Skullbuster Trail challenge.
"One big plus that our trails offer is the sharing of land with different users without conflict," said Fiddle. "There are numerous horse trails in the area along with the bike trails. Both parties are very respectful about staying on their own designated trails without causing any problems.
"Another is that riders can enjoy a great getaway without really getting that far out of the way."
Part of the fun of the getaway is experiencing the charm and attractions of the town. Many mountain bikers will ride for a few hours and then spend time exploring the retail, restaurants and bars of a given community.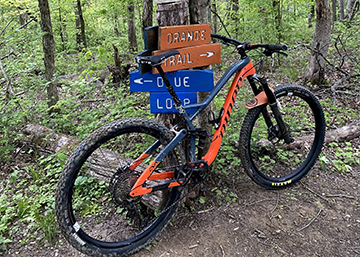 **Skullbuster trails – like all of Kentucky's mountain biking trails – are clearly marked with signage.
"We love to invest in a town with good riding and local charm, which Skullbuster, Georgetown and Scott County offer in spades," said Strom.
Added Mitchum: "The Skullbuster Trail certainly has a feeling of being far away from civilization. There are no sounds of cars or neighborhoods.
"For me, that is one of the aspects of mountain biking that I most enjoy, to be unplugged and removed and feel that you are truly in the middle of the woods."
**Jon Strom calls Skullbuster a true Kentucky backcountry riding experience where bikers can feel off the grid.
Ride on!
The Skullbuster Trail is a public trail that meanders through privately owned land. Riders are asked to observe all posted signage relating to private property easements and right-of-ways when riding through the area. For trail news and updates, visit www.facebook.com/Skullbuster-Trails-100334197987600.
Learn about the advocacy work and volunteer opportunities available with the Bluegrass Chapter of the KyMBA at www.kymbabluegrass.org. See all Kentucky chapters and get more information at www.kymba.org.
** Above photos courtesy of KyMBA Bluegrass.
---
Author: Kathryn Witt
Kathryn Witt is an award-winning travel and lifestyle writer, syndicated columnist and author of several books, including Secret Cincinnati, The Secret of the Belles and Atlanta Georgia: A Photographic Portrait. A member of SATW, Authors Guild and the Society of Children's Books & Illustrators, she lives in northern Kentucky.