Go further behind the scenes at Toyota's new Experience Center
Written by Kathy Witt
Toyota Motor Manufacturing Kentucky (TMMK) – the world's largest Toyota manufacturing plant and home of the Toyota Camry, RAV4 Hybrid and Lexus ES350 – just fully renovated and reopened the Toyota Kentucky Experience Center.

Take a tour for the unique opportunity to go behind the scenes at Toyota's oldest and largest facility in North America.


"Guests can see one of the most fully integrated manufacturing plants anywhere in the world – complete with onsite plastics, powertrain and die manufacturing facilities," said Justin Posey, senior analyst, Toyota Corporate Communications. "In addition, visitors will watch as a 20-foot interactive, 3D projected map comes to life and provides an unforgettable look into Toyota's advanced production processes."


Here are eight exhibits – some interactive – to catch when you go behind the scenes at the TMMK Toyota Kentucky Experience Center in Georgetown:
1. Toyota Kentucky and Toyota global history
2. Product kiosk that explains the research and engineering that goes into each of the vehicles Toyota builds at TMMK
3. Two team member training demos that teach guests the same fundamental skills Toyota team members practice and master
4. 20-foot projection mapping table that gives guests an immersive look at all the amazing work that takes place every day across Toyota's 1,300-acre Georgetown campus (It is hands-down one of the Experience Center's most popular exhibits.)
5. Environmental display to showcase Toyota's commitment to sustainability and carbon neutrality
6. Community display highlighting Toyota's commitment to the local community, including Toyota's more than $150 million invested in central Kentucky since 1986
7. Manufacturing wall that gives guests a sneak peek at some of the more unique processes in the manufacturing system at TMMK
8. Powertrain display that highlights the various engine types that are built at TMMK, including internal combustion engines and hybrid powertrains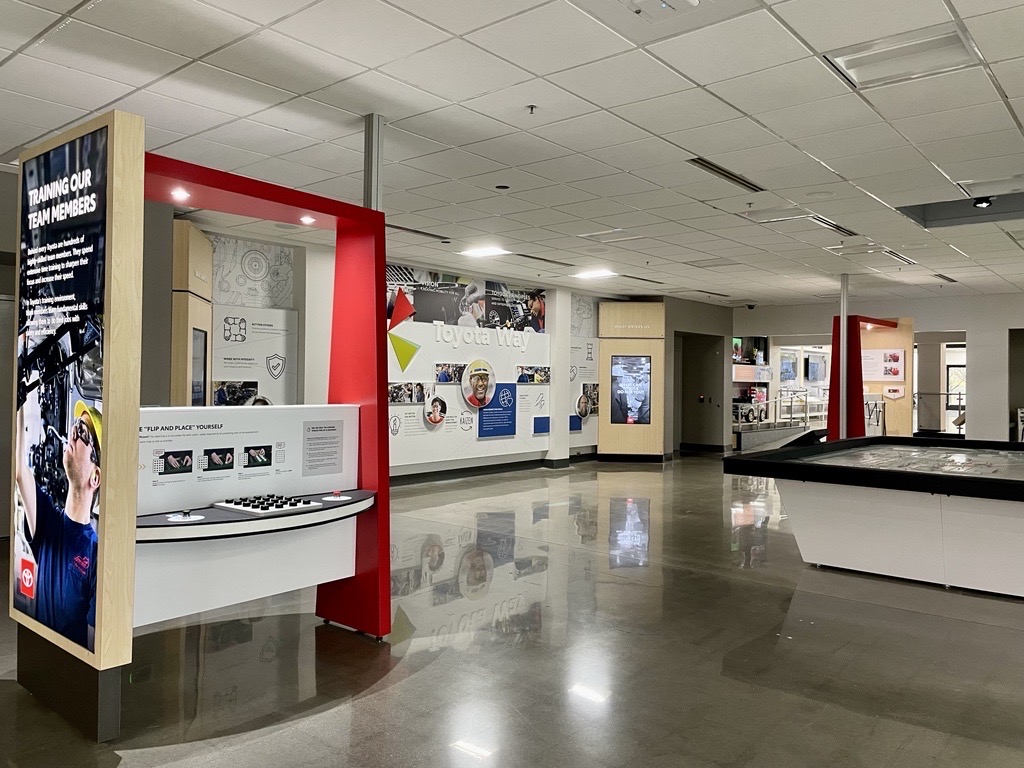 Additionally, guests can take a free tram tour of the facility – a 9 million-square-foot plant where over 10,000 team members assemble some 550,000 vehicles and build 600,000-plus engines . . . a year. The tours are available at 9 a.m. and 12 p.m. Tuesday-Thursday and reservations are strongly recommended.

But wait! There's more:
According to Justin, Toyota is currently in the process of expanding the exhibits to include an interactive Toyota timeline and an exhibit to highlight the Production Engineering and Manufacturing Center (PEMC). PEMC is Toyota's North American engineering headquarters and is also located on the campus in Georgetown.

What are you waiting for? Click here – www.tourtoyota.com/kentucky – to schedule your visit the newly renovated Toyota Kentucky Experience Center.
---
Author: Kathryn Witt
Kathryn Witt is an award-winning travel and lifestyle writer, syndicated columnist and author of several books, including Secret Cincinnati, The Secret of the Belles and Atlanta Georgia: A Photographic Portrait. A member of SATW, Authors Guild and the Society of Children's Books & Illustrators, she lives in northern Kentucky.
---