An Interview with Old Friends' Little Silver Charm
10/10/19 Written by Kathy Witt

Visitors to Old Friends Thoroughbred Retirement Farm find a whole herd of celebrities; in fact, this rolling green Georgetown pastureland is where about 175 four-legged luminaries spend their golden years, including 1997 Kentucky Derby and Preakness winner Silver Charm, a 2007 inductee into the Racing Hall of Fame; 2002 Kentucky Derby and Preakness winner War Emblem; and Game On Dude, the only horse to win three runnings of the prestigious Santa Anita Handicap.
One of Old Friends' most dashing equine stars is Little Silver Charm, a miniature horse named after his idol, the aforementioned (big) Silver Charm. The author of A Charmed Life, a book he co-wrote with former Boston Globe columnist Diane White that chronicles the story of Old Friends and its many resident and visiting celebrities, Little Silver Charm is also a social media darling, who loves to boast that his Facebook page has more than 6,700 two-legged fans following him.
Photo by Laura Battles
Despite his small stature, Little Silver Charm is big on personality, as a recent interview with the superstar stallion reveals:
How long have you lived at Old Friends?
Forever. Or at least since the farm was founded in July of 2003.
How do you spend your days?
Around 7 a.m., a member of my staff gets me from my well-appointed stall and leads me to my nearby paddock, where I have breakfast. Some days my personal groomer, Old Friends' volunteer Jane McLaren, works on me to make me even more handsome than I already am. The rest of the day I spend greeting visitors, grazing and napping under my tree. In late afternoon I go back to my stall where I have dinner and relax before bedtime.
Who is your bestie?
Michael, no question. [Little Silver Charm is referring to Michael Blowen, the former Boston Globe film critic who founded Old Friends.]
Can you tell us your age?
I am in my early thirties – the prime of life for a miniature horse.
What do fans need to know about you?
I'm very personable, extremely intelligent and devastatingly handsome. But I'm also modest.
Favorite snack?
Carrots are an all-time favorite. I also enjoy gingersnaps, particularly Trader Joe's Triple Ginger Snaps.
Can we entice you away from the farm for personal appearances?
Never. I dislike travel because it involves getting into a truck, which brings back some very troubling memories of my early life. If you want to see me, you must come to Old Friends.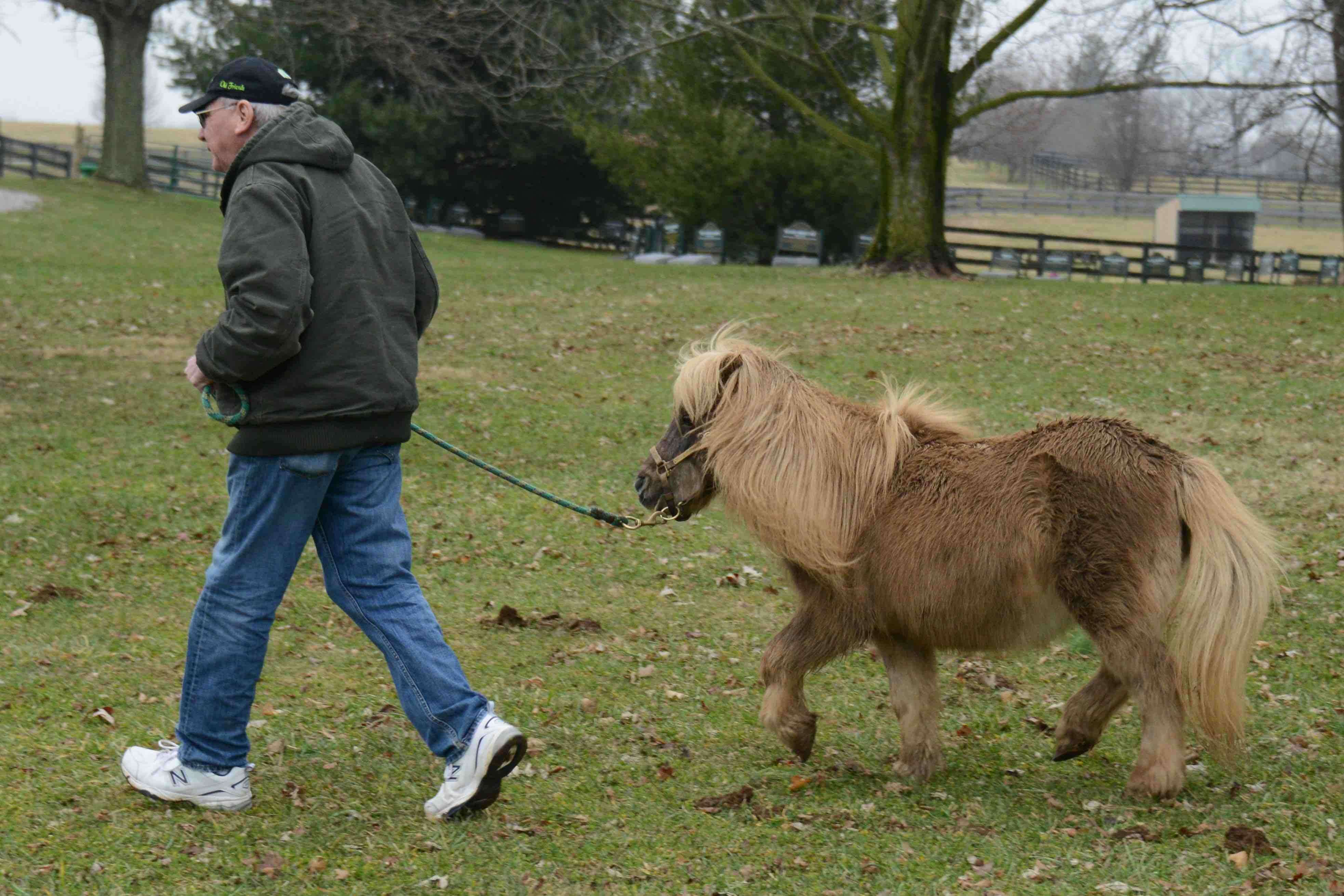 Photo by Laura Battles
We also asked Little Silver Charm for his recommendations for fall outings: