Got farm fun? Georgetown does!
Written by Kathy Witt
Apple cider, pumpkin picking and fall festivals.
Why is a fall outing to the farm such a beloved tradition for so many?
As one of the three brothers who owns Bi-Water Farm & Greenhouse (often described as the Disney of central Kentucky farms), Stephen Fister can spool off a long list of reasons: hayrides, corn mazes, a spooky farm house, Sky High slide, Pumpkin Vine zip lines, chutes and slides, paintball target shooting, mini golf, a petting zoo and so much more, along with fried apple pies, apple cider slushees, fresh-baked cookies, breads and other yummies – and this is just at Bi-Water Farm.
Photo of Bi-Water Farm
Several Georgetown farms – all Kentucky Proud members – offer a cornucopia of fun and activities, games and goodies for fall outings.
"The fun part of coming to our farm is having fun with the kids, relaxing and spending the day on a hayride and then seeing the kids run and play or gathering the family for an evening around your own campfire," said Fister. "But it's also the sights and smells of fall – the fall leaves as they drift to the ground, the campfire smoke in the air."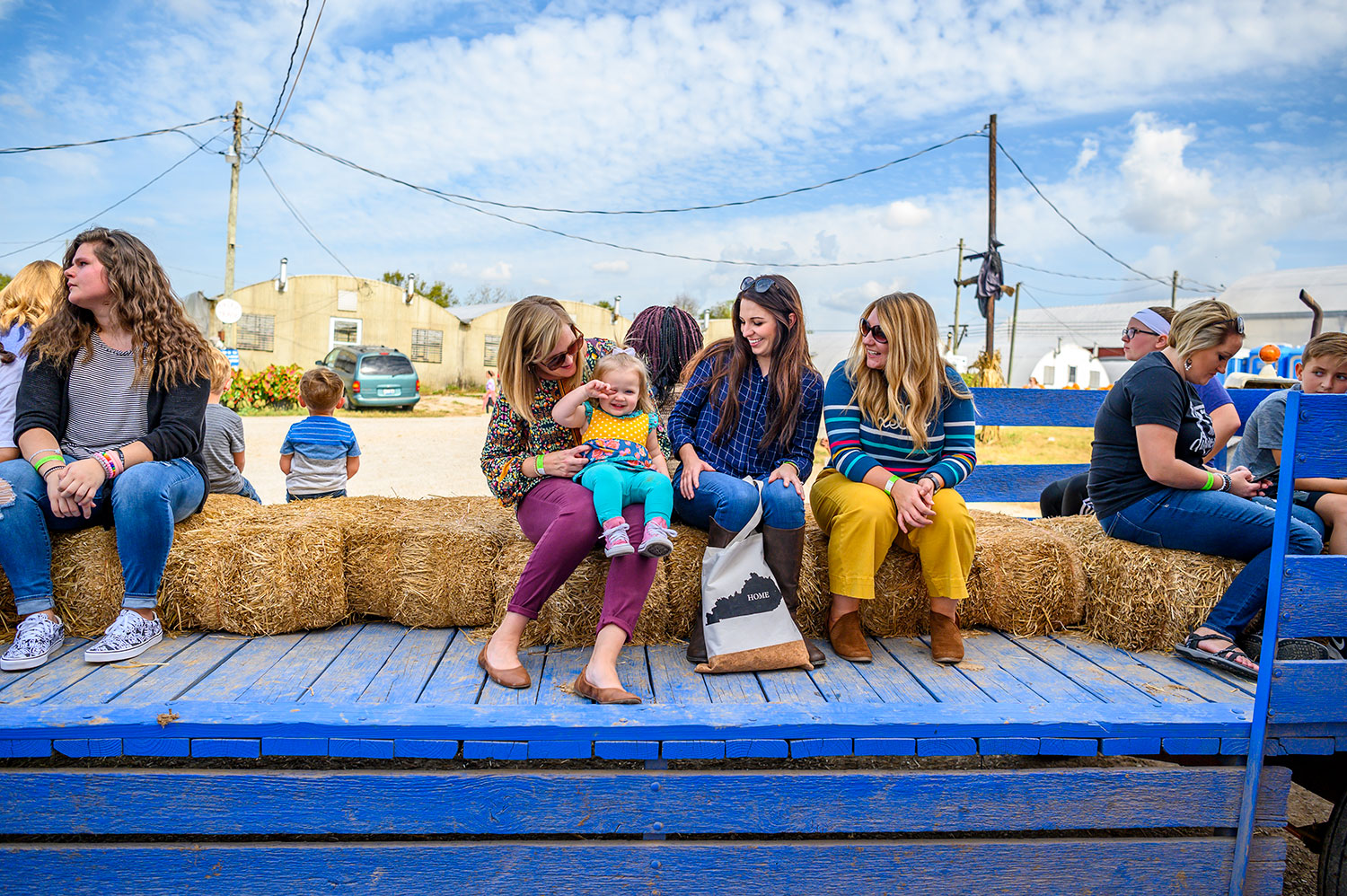 Photo of Bi-Water Farm
Bi-Water Farm hosts AutumnFest now through Oct. 31. (Check website for hours.) Featuring Hayrides, a Spooky Farmhouse, Dinosaur Dig, a Pumpkin Mine and much more. Admission: $13.99/general; $19.99/combo pass – includes general admission attractions plus 2 extra special events, AutumnFest Express Train, golf, Dinosaur Dig and more; $24.99/VIP pass – includes general and fall fun attractions plus all 5 extra special events, paintball target shooting and Pumpkin Cannon. Visit www.biwaterfarm.com for more ticket packages/information!
At Evans Orchard, a fifth generation family farm focusing on family entertainment and healthy farm-fresh fruits and vegetables, Fall activities are in full swing thru October. Featuring U-pick pumpkins, Play Area & Barnyard, Apple Canons, and enough fun for every member of the family.
Photo provided by Evans Orchard
Delicious foods include caramel apples, fresh pressed cider and fried apple pies and so much more. Visitors can take a ride to the pumpkin patch and pick out their very own pumpkins and drop by the farm's barnyard to meet the resident goats, pigs, donkeys, sheep and other animals. Do the animals look hungry? Pick up a cone of feed and give them a treat.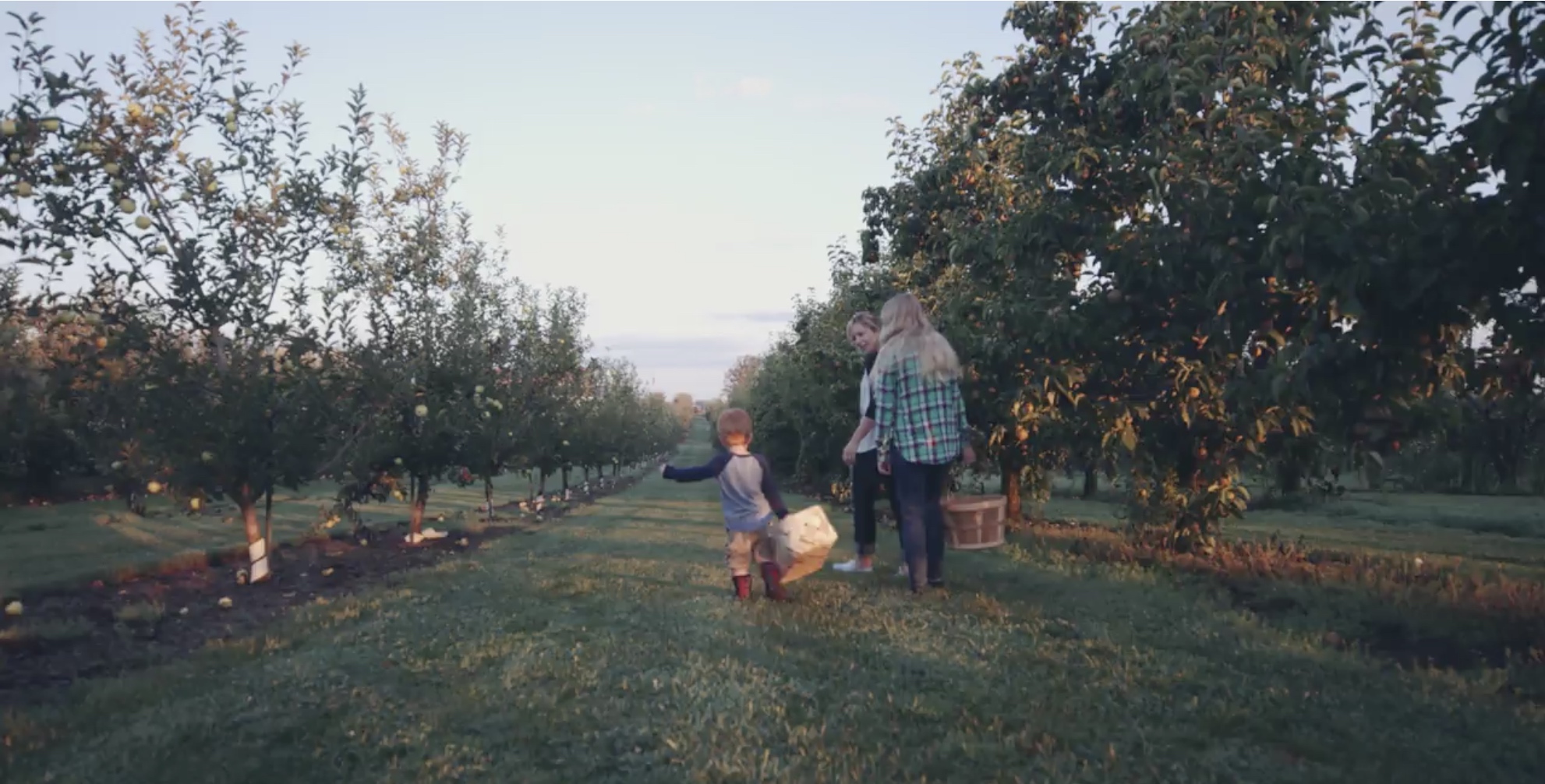 Photo provided by Evans Orchard
Play Area & Barnyard admission: $8/child; $5/adults and FREE to children 2 or under. Fall Fun Package (includes access to play area, barnyard, corn maze and hayride): $14/person. Fall Fun Package with (Includes Play Area, Barnyard, Hayride, & Corn Maze). www.evansorchard.com
Photo provided by Elmwood Stock Farm
Elmwood Stock Farm is committed to healthy and wholesome production of high-quality fresh farm products. This sixth generation family farm spread over 550 acres produces organic vegetables, fruits, meats and pasture-raised eggs, as well as grass-fed stock cattle. Catch a video featuring Farmer Mac and Elmwood Stock Farm turkeys produced by Louisville Courier-Journal food writer Jere Downs. www.elmwoodstockfarm.com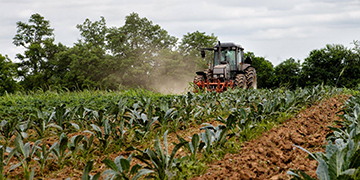 Photo provided by Elmwood Stock Farm
If your fall farm outing is all about stocking up the pantry, head to Triple J Farm, a 370-acre family farm going back four generations, for eggs, beef, fall squash including cushaw, sweet potatoes, broccoli, Brussel sprouts and cauliflower, as well as gourds, pie pumpkins, mini fall décor and other items. Baked goods are available at the Farm Kitchen on Fridays. For those working on their own gardens, Triple J also has compost and topsoil.