Of Cougar Bait and Shotgun Weddings
Written by Kathy Witt



The old road trip song, "99 bottles of beer on the wall," springs to mind when entering Country Boy Brewing, an enormous watering hole on the outskirts of Georgetown that hums with conviviality. Except instead of "99 bottles," you'd have to change the words to "50,000 cans." That's because 50,000 is the number of cans of beer, on average, filled with Country Boy's award-winning brews..
Cougar Bait Blonde, Shotgun Wedding Vanilla Brown, Cliff Jumper IPA – Country Boy beers are already achieving legendary status. In fact, the brewery was recognized in 2017 by readers of Kentucky Living magazine for having the best craft beer.
Country Boy was founded in 2012 by four Kentucky boys who admit to sharing an unchecked passion for unique craft brews. Daniel Harrison, Nathan Coppage, Jeff Beagle and Evan Coppage met through the local homebrew club and truly, the rest is history, including the development of their second taproom room (first one in Lexington) and massive brewing facility (take the tour, it's fabulous!) and the ambience they created (it's laid back and exceedingly pleasant).
Stop by for a flight, choosing four beers among the 24 on tap. (Flights are $8 plus tax.) Grab a seat at the chummy bar and catch whatever game is playing on one of nine TVs. The beer makers may get a little zany with names (they do), but they take their brewing – and their sports – seriously.
Cougar Bait is Country Boy's #1 beer. Jalapeno Smoked Porter is surprisingly refreshing and oh so smooth. Got something to celebrate? Try one of the fruit beers. The Strawberry Saison steps up beautifully for toast-able moments. And Shotgun Wedding pairs well with pretty much everything, including wedding cake.
Saturdays are busiest, but the bar stays steady through the week. The combination of excellent beer, food truck noshing and inviting atmosphere is irresistible. There's trivia night. Yoga Tuesdays, too. Warmer weather brings UP the taproom garage doors and OUT the corn hole competitors. Yes, Country Boy offers another unusual but superb pairing with its Sun Salutations and suds. And then there's the crowd itself.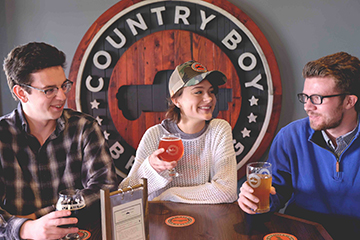 "We make a lot of interesting and delicious beers, but the taprooms are always filled with great people and wonderful conversations," said Brewery Manager Nathan Coppage.
Food trucks are onsite every night: Red State BBQ, Apollo Pizza, Gringos 859, Roll 'n' Smoke, Thailand Express, Misfit Commissary, Baby Bistro. Check the lineup on Country Boy's Facebook page. Country Boy also loves events and plans lots of them. The biggest event happening within the next week? Country Boy's anniversary. The award-winning brewery marks its six year as a company and completes its first year in Georgetown on Feb. 11. So obviously, you'll want to stop by and celebrate with a beer or two.
Country Boy Brewing is located at 108 Corporate Blvd. in Georgetown's Lane's Run Business Park and open 11 a.m.-11 p.m. Monday-Saturday, 1-10 p.m. Sunday. Food Truck hours are 4-10 p.m. Monday-Saturday, 2-8 p.m. Sunday. You can visit their Facebook page for the latest tap menu and event listings.