Guests won't find 'hotel experience' at Georgetown's Chardonneigh House and Dark Horse Inn – and that's a good thing
Written by Kathy Witt
The Chardonneigh House may inspire visions of sipping a lovely dry white wine, but this beautiful two-bedroom home rental in Stamping Ground unabashedly celebrates the horse.

The first clue is the "neigh" in its Chardonneigh moniker. The second? The home's interior. From horse sculptures, paintings and pillows to furniture, original signage and horse tack, this Airbnb's enthusiastic equestrian theme has left its hoofprint in every room.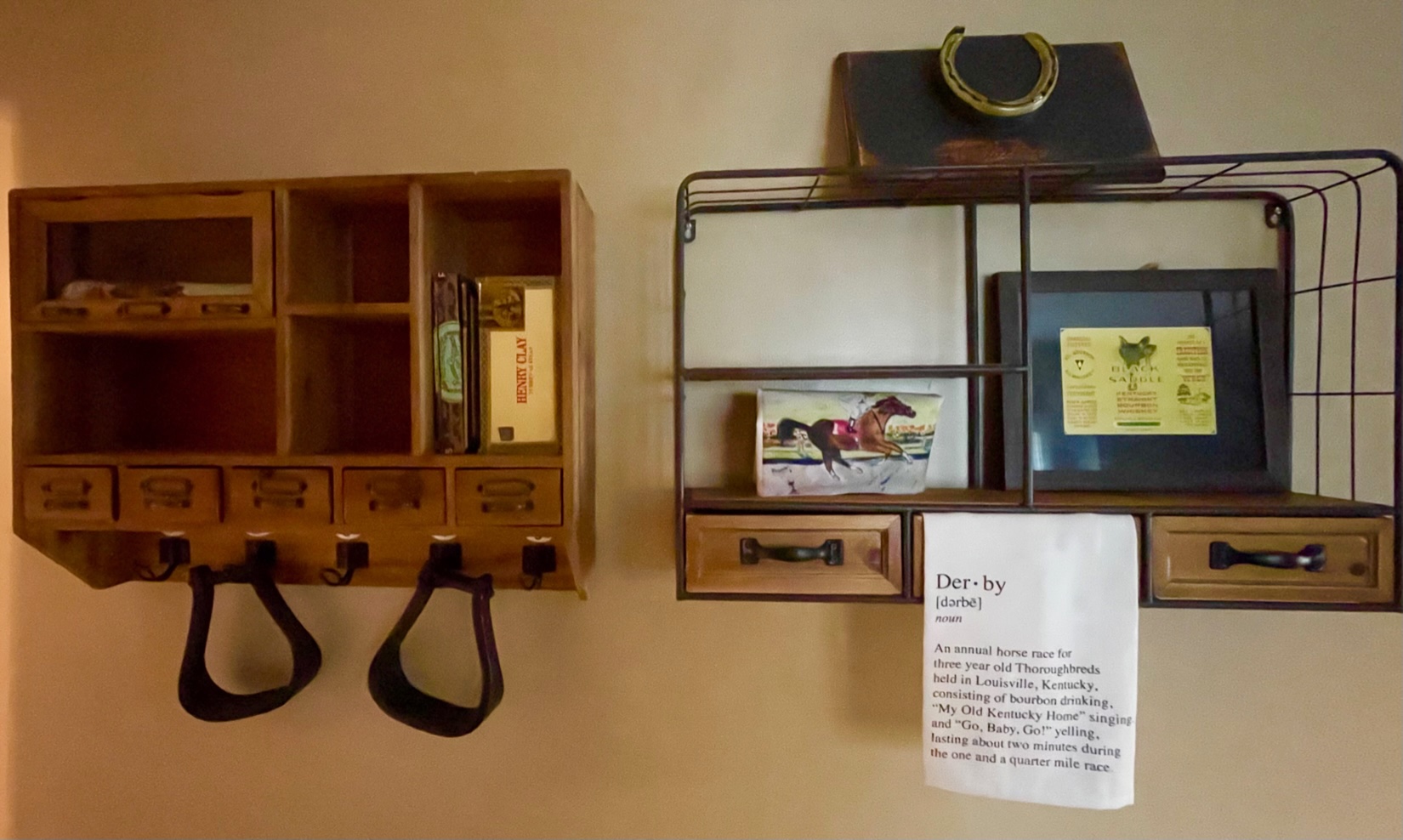 "Chardonneigh House is designed to showcase the majesty of the horse and be an authentic representation of central Kentucky," said owner and Airbnb superhost Kayla Jones.

Among its many charming features are barn doors removed from local Kentucky thoroughbred farms, name plates from a local horse farm, kitchen cabinet pulls crafted from old horse halters and a halter that belonged to "Afleet Alex," the thoroughbred racehorse that won the Preakness Stakes and the Belmont Stakes in 2005. A chair from Keeneland Race Course and a feed bucket from Lexington's Spendthrift Farm grace the home's living space.

Jones also owns sister property Dark Horse Inn, a gracious three-bedroom home in Georgetown's Villages at Elkhorn Green neighborhood that is located just minutes from Kentucky Horse Park. Like Chardonneigh House, the Dark Horse Inn pays homage to the horse.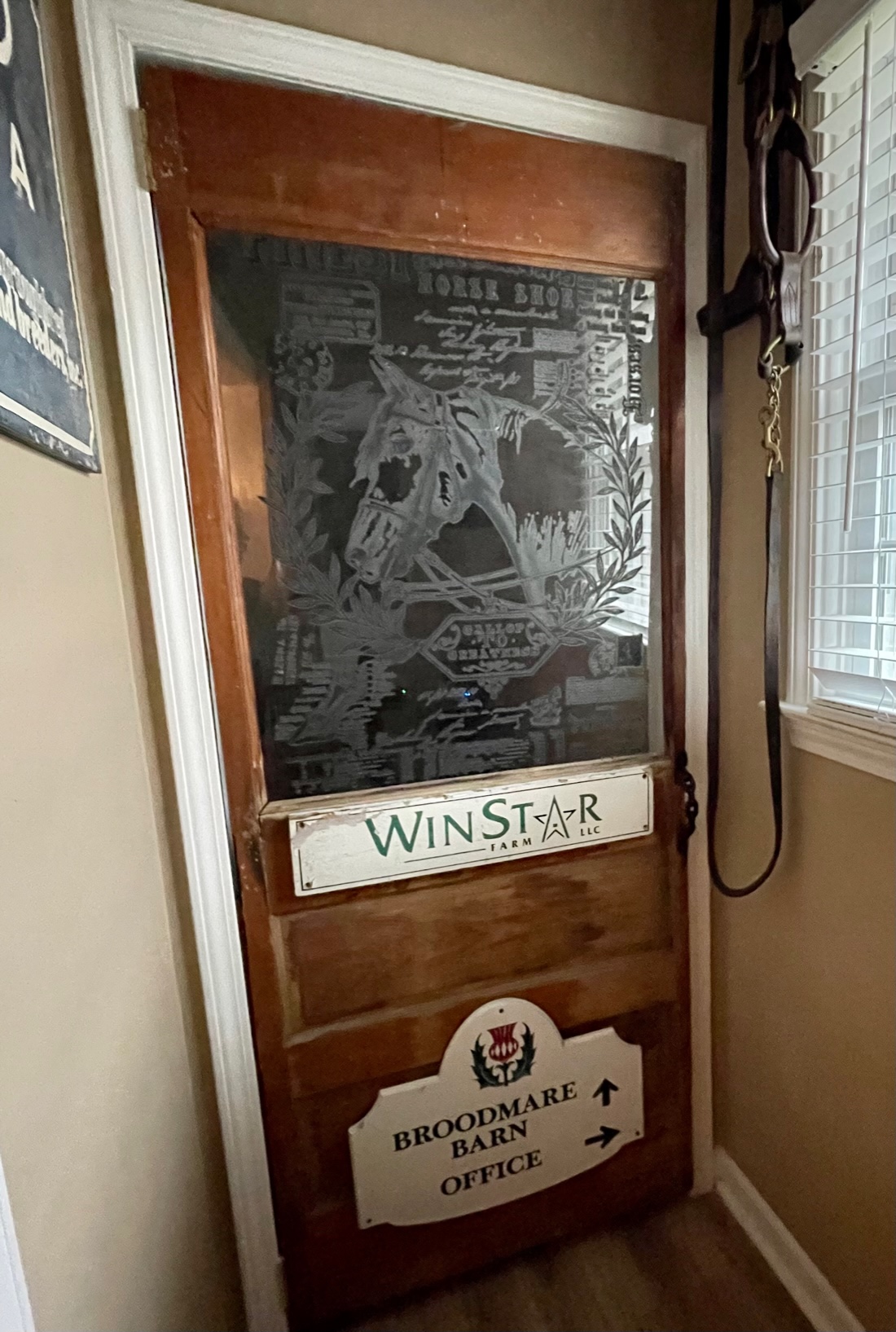 "It is decorated with a saddle, riding boots, tack boxes from Lane's End Farm and signage from Keeneland," said Kayla.

Both homes opened as rentals in 2021. The Chardonneigh House, featuring a full-size bedroom and queen bedroom, plus comfortable daybed on the other side of the house, is ideal for up to five guests. With three queen bedrooms and two-and-a-half baths, the Dark Horse Inn offers plenty of space for a family or group of six people.

The kitchen in each lodging is well-equipped and provides the essentials for guests who wish to cook and eat "at home." Guests find coffee pods for the Keurig coffee machine, seasonal fresh flower arrangements, holiday decor and basic toiletries. A grill sits ready for use in the backyard at Dark Horse and, at Chardonneigh, a fire pit invites guests to gather round its cozy warmth.

"We don't offer the 'hotel experience,'" said Kayla. "Our goal is for each and every guest to feel like they live here in this area and, after they depart, that they have a feeling of leaving their second home and will be anxious to return."

Located eight miles outside of downtown Georgetown, Chardonneigh House in Stamping Ground caters to guests who long to leave the hustle and bustle of town behind. For more information or to make reservations, visit this lodging's Airbnb listing.

The Dark Horse Inn sits in a pretty neighborhood near the interstate, putting guests within 10 minutes of the Kentucky Horse Park. For more information or to make reservations, visit this lodging's Airbnb listing.


Besides her equestrian-themed lodgings, Kayla also owns the bourbon-themed Buffalo Springs Distillery home rental in Stamping Ground.

Hotel to Home Hack: "We strive to focus on creative endeavors and whimsical touches that have no other purpose than to brighten someone's day and perhaps bring a smile to their face. When selecting a few seasonal sprigs for the kitchen table, we like to use whimsical notes. Many of our Dark Horse Inn blossoms are displayed in wine bottles from Dark Horse Winery and our Chardonneigh House arrangements are usually displayed in Chardonnay wine bottles." Kayla Jones, Chardonneigh House, Dark Horse Inn, Buffalo Springs Distillery
---
Author: Kathryn Witt
Kathryn Witt is an award-winning travel and lifestyle writer, syndicated columnist and author of several books, including Secret Cincinnati, The Secret of the Belles and Atlanta Georgia: A Photographic Portrait. A member of SATW, Authors Guild and the Society of Children's Books & Illustrators, she lives in northern Kentucky.
---