By: Kathy Witt
Alicia Harris named her downtown Georgetown shop after herself – but don't go looking for a Hamilton Street storefront lettered with "Alicia Harris" – you won't find it. Rather, the entrepreneur chose "Crafty N' Blessed.
"I wanted a cute, unique and catchy name," said the bubbly owner. "Crafty n' Blessed was suiting and perfectly describes me! Life has a lot of twists and turns, but I have many things to be grateful for and I am so blessed.
"So, Crafty n' Blessed it is.
The shop is known for its adorable signs, door hangers and other decorations and home décor items that can be personalized for any gift giving occasion: baby showers, housewarmings, weddings, teacher and hostess gifts, birthdays or as a special gift for the buyer. The shop takes custom orders and everything is handmade.
What would eventually evolve into a full-blown retail shop and craft space began as a side hobby back in 2012. That "hobby" soon took over, becoming the full-time job of this stay-at-home mom.
"It all began with a jigsaw," said Alicia. "And it was a one-woman show."
Fast forward eight years and Alicia now has help cutting the wood she uses for her customized signs, a paint party assistant and help during her busy seasons.
The paint parties were added to the business mix in 2017 and were an immediate success.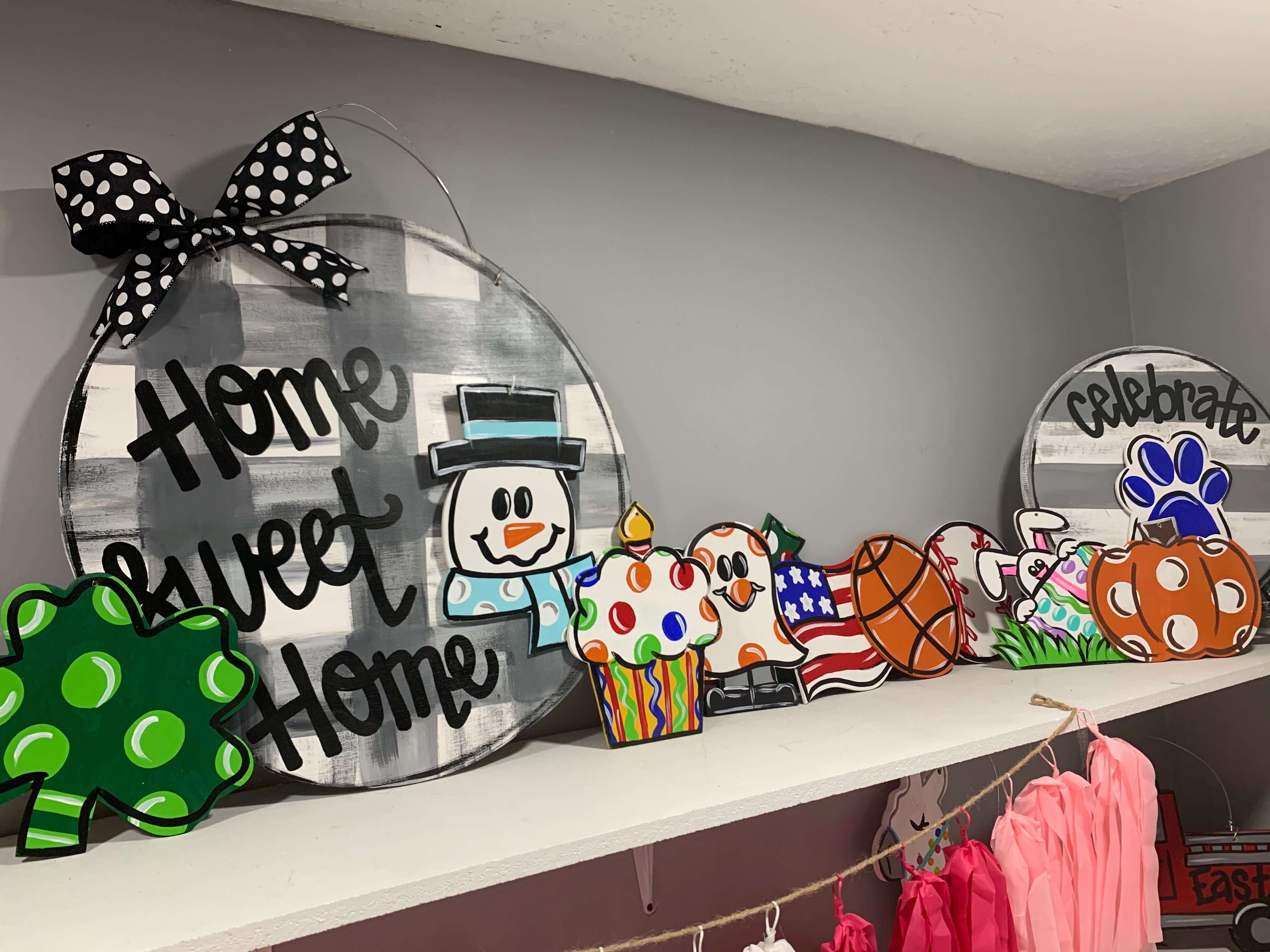 "As the demand increased and we outgrew the little room we were renting out weekly, we found our own little studio right in the heart of downtown in 2018," said Alicia, who loves being in downtown Georgetown because of its small-town feel and welcoming nature.
"Crafty n' Blessed is known for its fun paint parties where everyone – no matter their artistic ability – leaves with a masterpiece.
The arrival of the COVID pandemic put an end to the paint parties for many months in 2020; however, the shop implemented safety and health protocols and reopened for parties last fall. The number of party attendees has been reduced from 16 to eight and all are spaced out among the studio's tables. The shop requires all guests wear masks and has added extra cleaning procedures.
"This allows us to party safely in the community again," said Alicia.
Crafty n' Blessed by Alicia offers finished products as well as DIY kits. Curbside pickup and shipping are both available.
To learn more about the owner and crafter behind Crafty n' Blessed by Alicia and the array of handmade and personalized gift possibilities, visit the shop's Facebook page or website. Get in touch with the shop at This email address is being protected from spambots. You need JavaScript enabled to view it..
Georgetown has lots of cute little shops like Crafty N' Blessed by Alicia's that currently offer shopping by appointment, special shopping times with reduced capacity, curbside pickup and other options. See an updated list here.

---
Four fun ways to warm up this winter with Crafty n' Blessed by Alicia:
• Join a paint party – $35/person.
Public parties with reserved seating and private parties that allow guests to reserve the whole studio are both available. "When people leave our paint parties they have many times thanked us for offering a fun activity to do locally with their friends and for being so helpful and fun," said Alicia.
• Pick up DIY Door Hanger Paint Kits to paint from home – from $18.
• Kid DIY Kits – from $18 (includes kid-size door hanger, paints, brushes, matching bow).
"Kids LOVE to paint, too," said Alicia. "We offer mommy-and-me classes occasionally in the studio, but we always have Kid DIY Kits kids can paint in the comfort of their own home.
• Find the perfect finished, personalized door hanger – from $38.
---
Author: Kathryn Witt
Kathryn Witt is an award-winning travel and lifestyle writer, syndicated columnist and author of several books, including Secret Cincinnati, The Secret of the Belles and Atlanta Georgia: A Photographic Portrait. A member of SATW, Authors Guild and the Society of Children's Books & Illustrators, she lives in northern Kentucky.