East Meets West: Georgetown's Main Street Dining & Drinking Guide
Historic downtown Georgetown is utterly charming with its Victorian streetscapes, lively with dozens of shops, boutiques and art galleries – and full-on food-crazy with its abundance of culinary options. Within a six-block stroll, 13 different dining and drinking places dish up all variety of gastronomical delights, from local artisan chews and brews and come-hither confections to old-timey diner delectables and linen-draped fine dining.
For the most up to date listings of restaurant hours of operation & openings: Click Here
While the west side triumphs in sheer numbers (having snagged the lion's share of eateries and watering holes), the east side scores in singularly savory sensations. On both sides of town, Kentucky Proud products add that fresh, local zing.
Need a sugar rush? With the opening of Spotz Gelato, the west side boasts four sweet spots. The east side claims Georgetown's only authentic Irish pub modeled after the great public houses of Ireland as well as the only diner in the area that played a role in a page-turning mystery – Nick Allen Brown's Field of Dead Horses. It's all friendly and food-fabulous and everyone (and their taste buds!) wins.
FEAST ON THE EAST
Fancy a pint? Find it on the east side, along with the darlings of casual comfort food: pizza and craft beer. Foodies can time-travel to 1920s small-town America with blue plate specials or take their taste buds on a journey through the Mississippi Delta.
East Main Street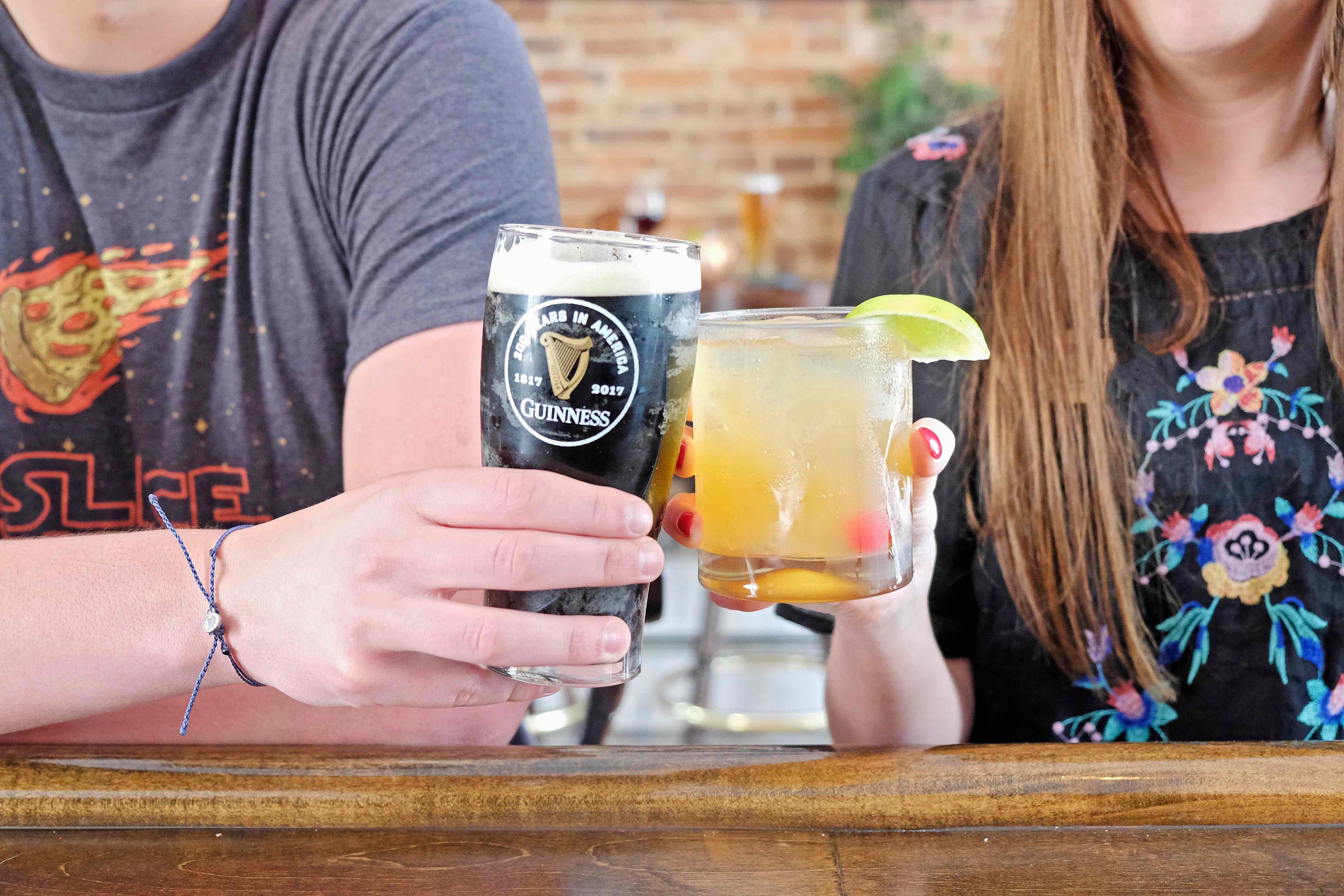 1. Slainte Public House (pronounced Slahn-cha), 320 E. Main St.: It's not about the beer. Wait! What? "What sets our place apart is an atmosphere that makes people comfortable with one another," said owner Ashley Nunn. "Because of this, friendships are born, conversations happen that don't happen elsewhere – at restaurants, bars, church – and community is created." By the way, there is a great selection of craft beers, plus whiskey and wine and plenty of free popcorn.
2. Fava's, 159 E. Main St.: You don't argue with a diner that has been around since 1910; you just dig into the vittles – fried catfish, thick-cut bologna, pimento cheese sandwiches, loaded chili cheese dogs and more, and signature breakfasts like the Country Boy with eggs, country ham, pork tenderloin, hash browns, biscuit and creamy sausage gravy. This is cookin' as grandma did it. ("The right way," she'd say.)
3. My Old Kentucky Foam, 149 E. Main St.: Here are a few of our favorite brews: Georgetown Brown – a very drinkable and malty award-winning brown ale; Copperhead – a hoppy amber, with more bite than most ambers; Dirty Blonde – 27 percent dirtier, but 35 percent more approachable than most blondes; Hot Mess – a retro cream ale from the turn of the 19th century.
4. Big Tony's Pizza, 151 E. Main St.: It's a match made in culinary heaven: craft beer and pizza. Big Tony's is located within My Old Kentucky Foam, pleasing the palate with classic pizza pies. The only side that makes sense here are the suds. Luckily, the bar is just steps away.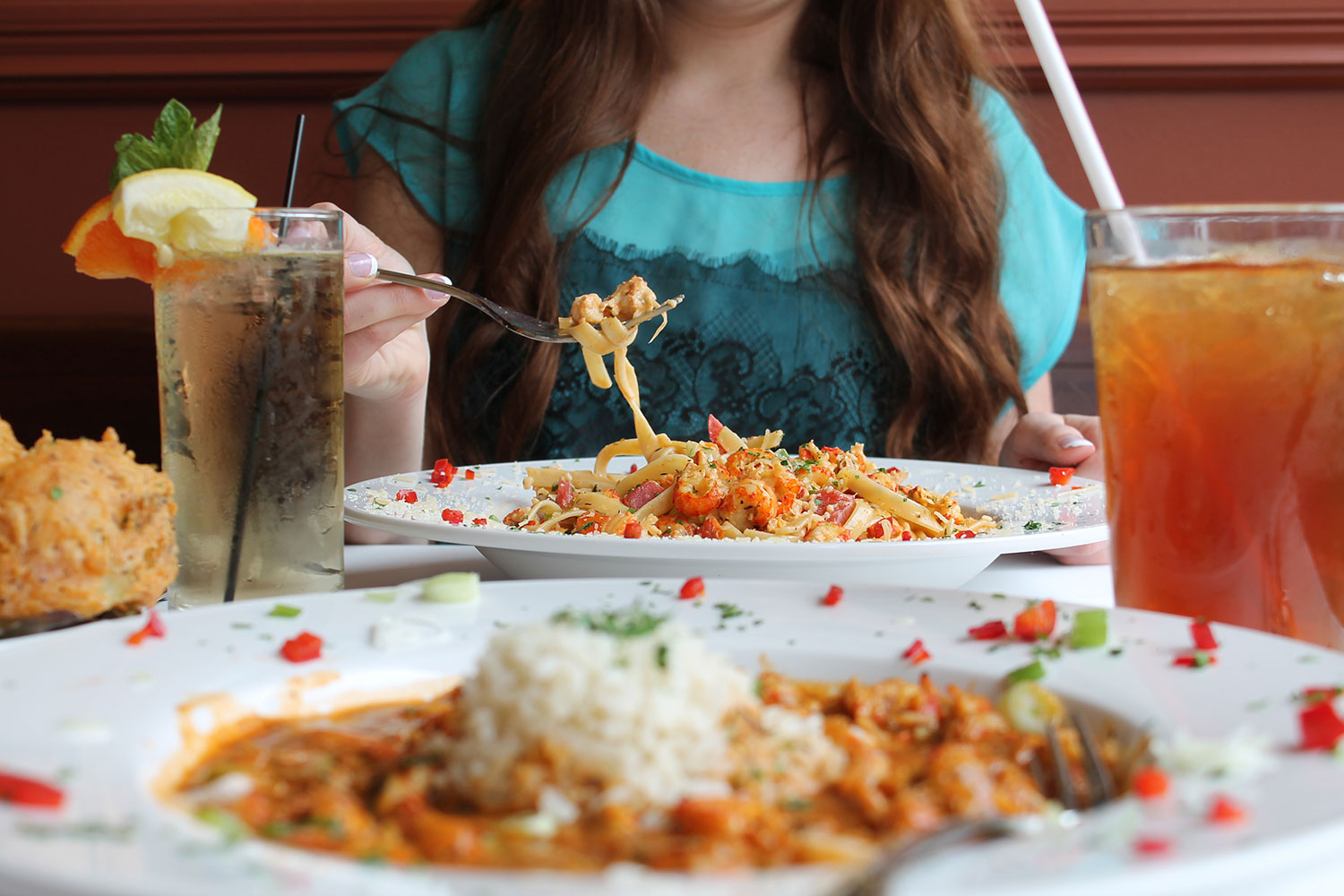 5. Broussard's Delta Kitchen, 135 E. Main St.: This charmer in fully renovated space is newly opened and ready to tease your taste buds. On the menu? Deep South faves from the Mississippi Delta, starring fresh Gulf seafood and local meats and veggies and with everything made in-house daily.
---
CULINARY QUEST ON THE WEST
Head west for an evening out to celebrate a special occasion or to cuddle up at a table for two. Sweet endings to a night out on the town happen here in dessert nirvana, as well as bourbon tastings straight from the barrel.
West Main Street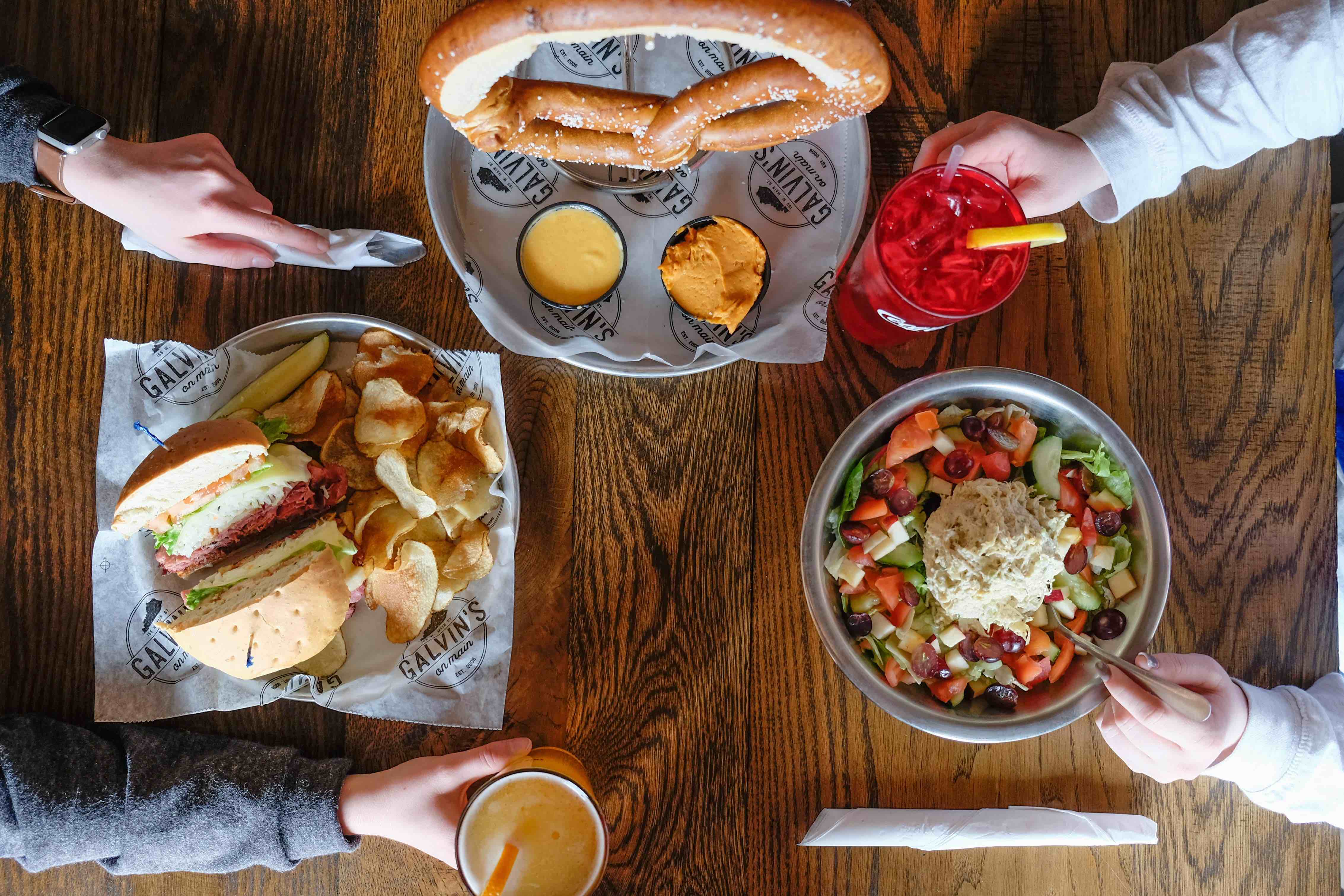 6. Galvin's on Main, 155 W. Main St.: Word of warning – come hungry. The menu has lots of choices (fried macaroni and cheese or Dagwood sandwich, anyone?), the portions are healthy and the food is fab, with all served in a welcoming and game-time atmosphere.
7. More Than Cake, 150 W. Main St.: You have to love a place whose slogan is, "If you can dream it, we can bake it!" Challenge accepted! The chefs bake breads, cakes, cupcakes, pies and more daily from scratch; likewise, the warming soups and sandwiches. Share your dream; they'll make it delicious.
8. Spotz Gelato, 135 W. Main St.: This Kentucky Proud biz has boomed from a travel trailer named Humpback Hazel to a brick-and-mortar scoop shop. Head to one of Georgetown's oldest Main Street buildings (you'll know it by the splash of Spotz's signature pink and dots) for award-winning handcrafted, small-batch gelato and sorbet. Cookies and Cream, Fluffernutter (peanut butter and marshmallows) and Banana Pudding (Grandma's recipe) are some flave faves.
---
Water Street
9. Local Feed, 214 S. Water St.: Extraordinary, rustic, delicious – this is destination dining in an atmospheric building (a circa 1890s former ice house) located across from the very spot Baptist minister Rev. Elijah Craig legendarily made bourbon, and history. Scratch-made dinner and brunch elevate dining downtown to an epicurean experience.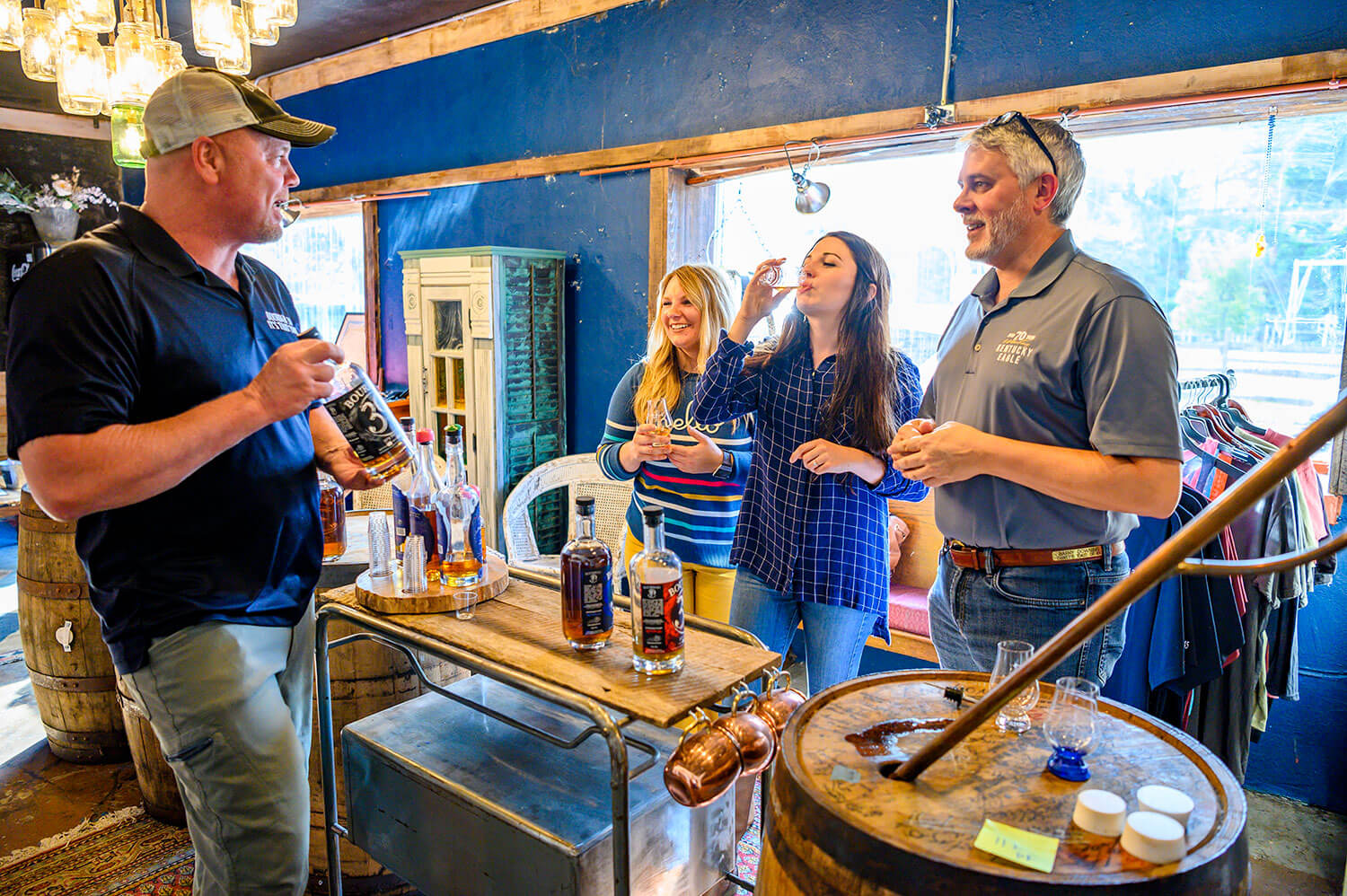 10. Bourbon 30, 130 S. Water St.: And speaking of the good reverend, here is a craft distillery located mere steps from the milestone moment he gave to Kentucky. Offering a unique bourbon experience, each guest can taste the good stuff straight from the barrel, bottle their own and taste why single barrel small-batch, proof-aged and rye whiskey is one smooth sip.
---
Broadway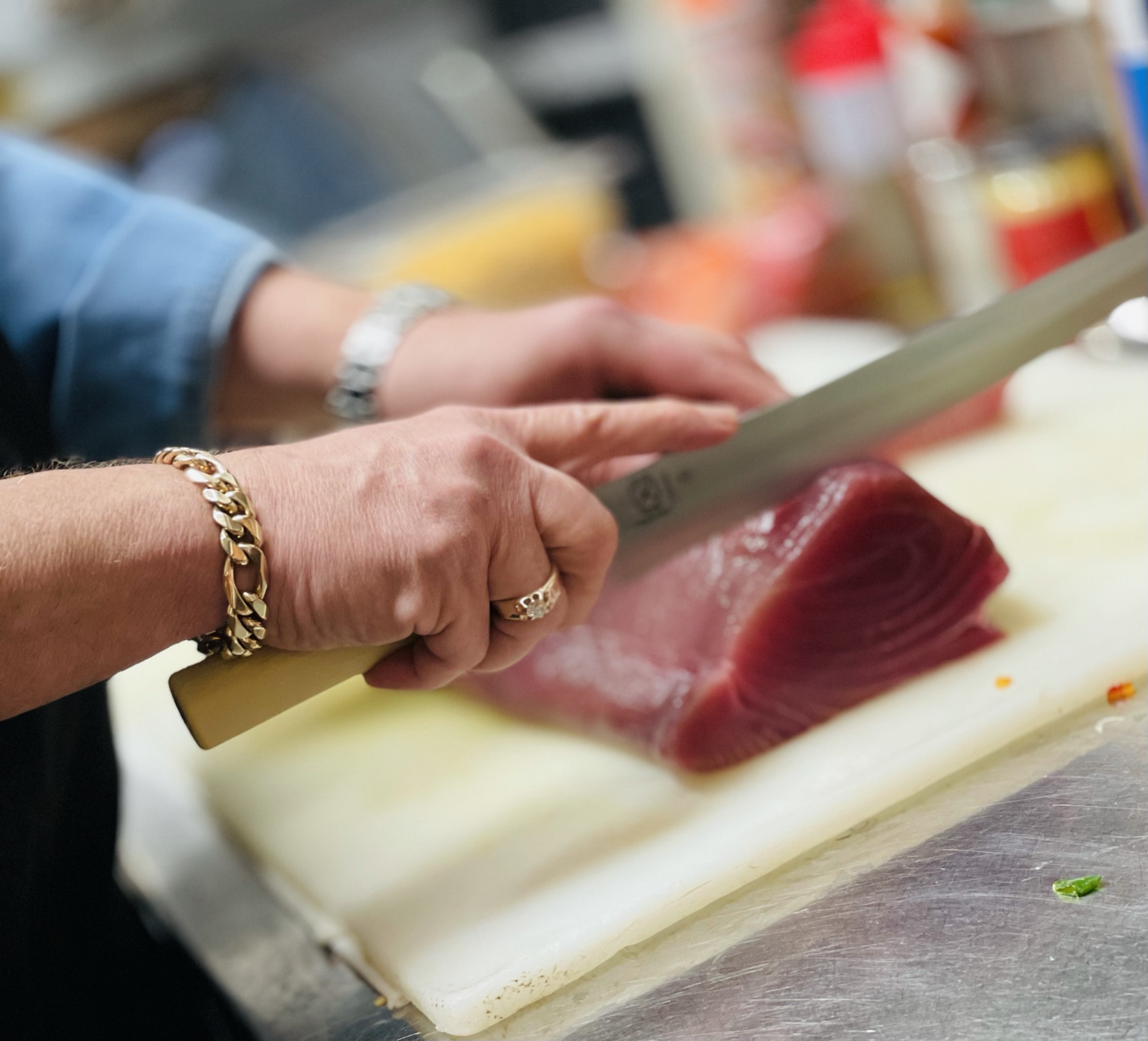 11. Rodney's on Broadway, 222 N. Broadway St.: When the siren call of the steak beckons, follow it to this fine dining establishment tucked in the splendid setting of a historic building. Filet mignon, rib-eye, surf and turf and more, crowned with the chef's homemade sauces and accompanied by savory sides . . . Mmm.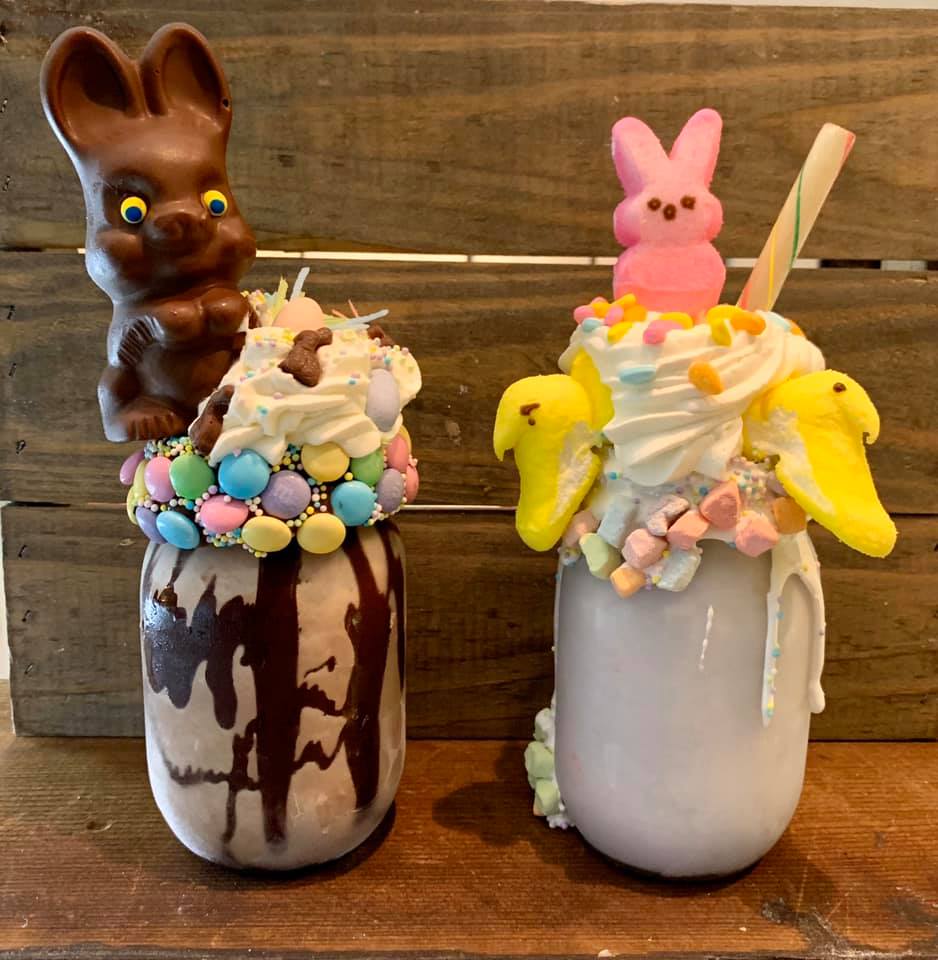 12. Sweet Matriarch, 146 S. Broadway St.: Here is a bakery born from love of traditions, family and gathering round great Southern-style food. The special somethings the owner uses in her cakes, cupcakes, cookies, bourbon balls, pies and more? Real ingredients and love.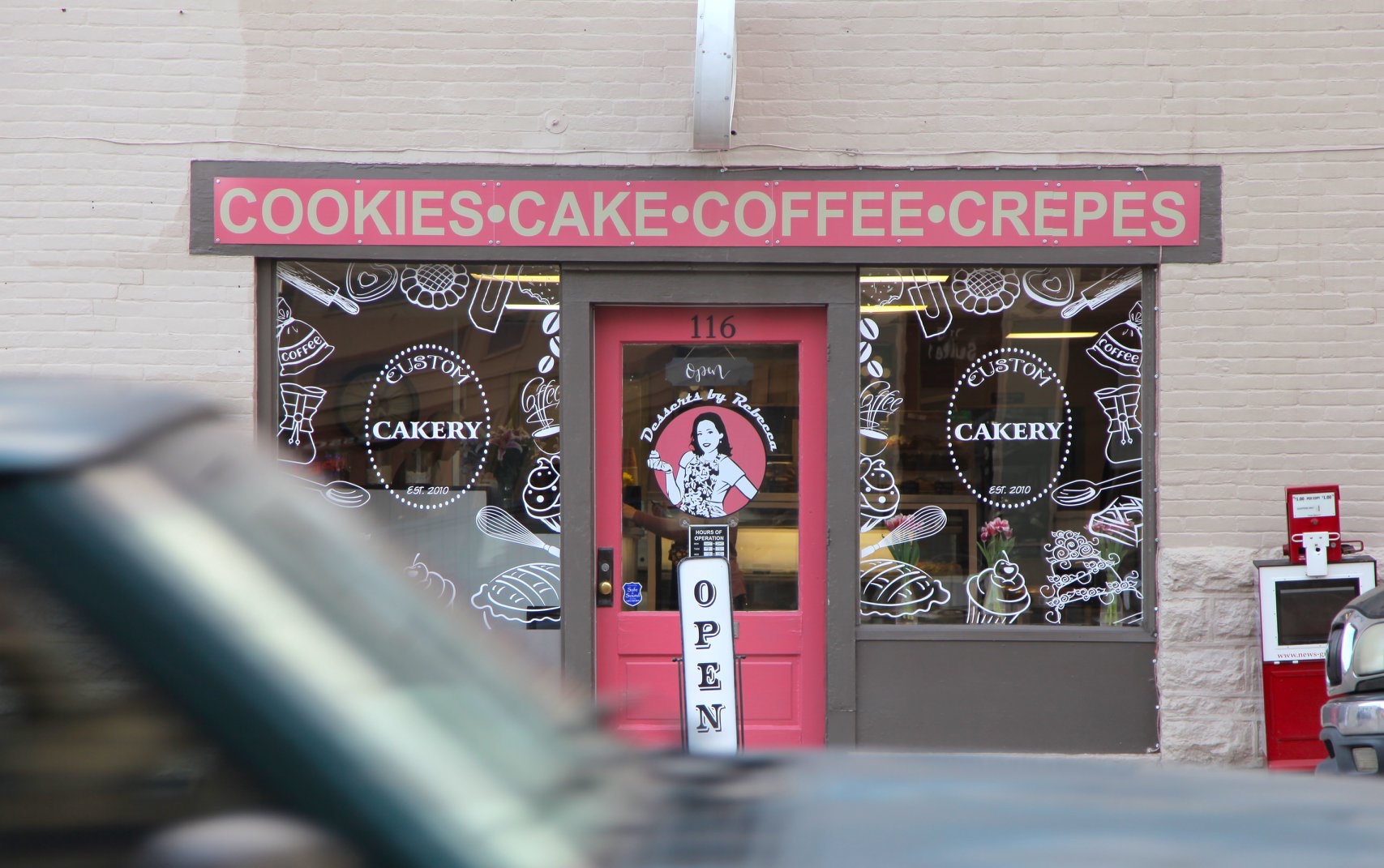 13. Desserts by Rebecca, 116 N. Broadways St.: This adorable sweet shop offers an array of rotating scratch-made desserts daily, including cakes, cookies and other edible one-of-a-kind confectionary works of art.