G-town Holiday Gift Guide
11/19/19 Written by Kathy Witt

Our G-town Holiday Gift Guide lets you show your love of Georgetown, of shopping local, of finding those unique, small-town surprises that can only be found here. And something to make merry about – all but one fit beneath the tree. (Hint: You'll have to hide the big one at a neighbor's house . . . or garage.)
Country Boy Brewing: Nothing like a cold one at a chill Christmas gathering. Wrap up a 6-pack of beer ($9.99), like the brewery's flagship bestselling Cougar Bait, an American blonde ale so delicious and refreshing Santa may be tempted to keep it for himself.
Birdsong Quilting, Embroidery, Crafts: Give a special crafter the gift that keeps on giving, or making: A sewing machine ($95-$195) – the biggest seller over the holidays at one of Georgetown's favorite community gathering spots. Pair it with Birdsong's pre-cut "Fat Quarter" Bundles that include 10 pieces for $20 and come in lots of styles and colors.
Heirlooms & Gretchen's: Celebrate the Horse Headquarters of Kentucky with the horse lovers on your list with an original stained glass horse ornament ($25-$35) to hang in their window. Go big or go home for the holidays with a larger piece (from $90) that looks gorgeous with sunlight streaming through it.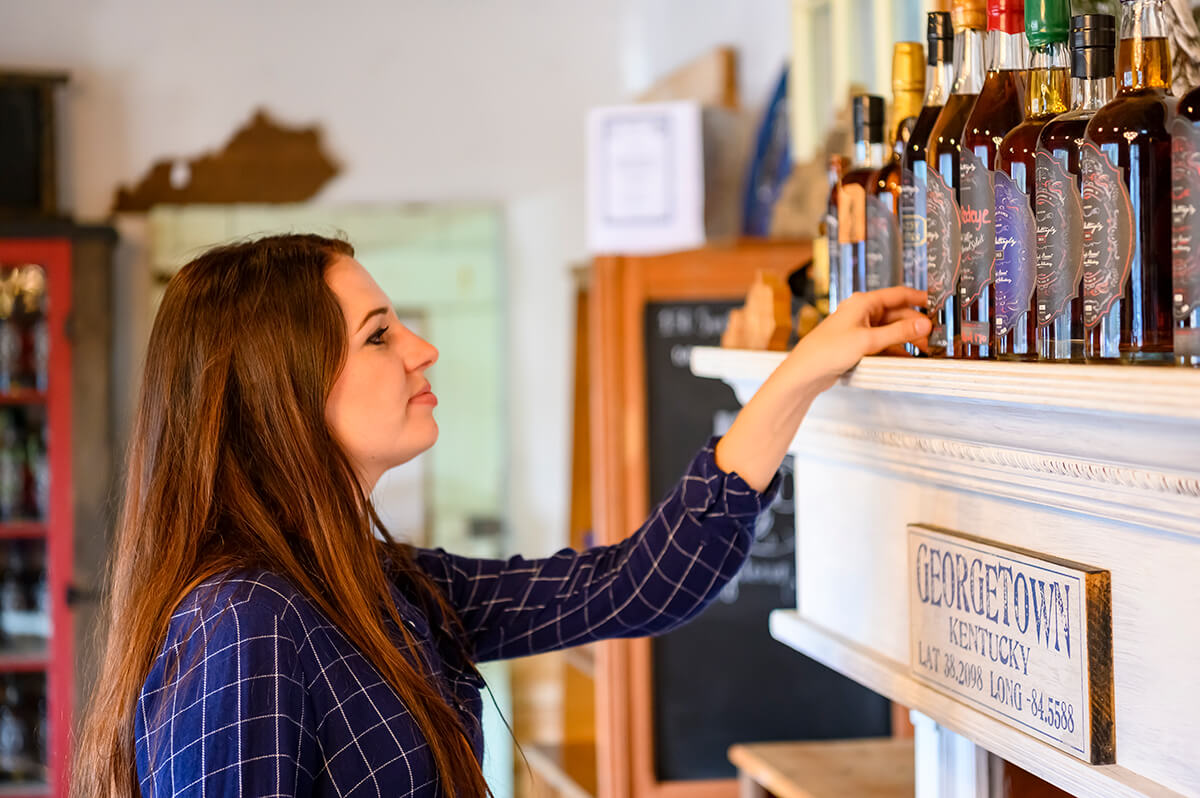 Bourbon 30: Got a bourbon aficionado on your list? This craft distillery has a two- to four-hour blending session with owner and Master Crafter Jeff Mattingly that lets the giftee customize the label and blend whatever they want – right across from Royal Spring Park where bourbon is believed to have begun. Session includes a tasting and the first 750ml bottle. $150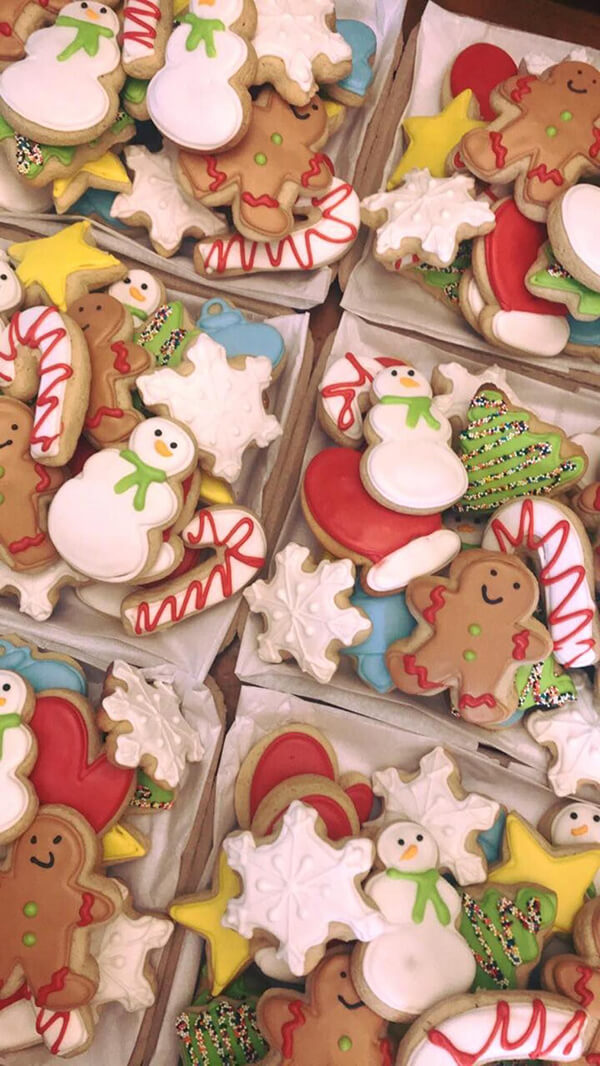 Desserts by Rebecca: Pre-order a Christmas-themed cookie tray that includes 25 decorated sugar cookies ($40). Watch for the ad for this holiday special around November 25 and plan to order your tray for a December pick-up. Owner Rebecca Maupin notes that space fills up quickly for these trays. "Last year I made and decorated 10,000 cookies, and that was from my home. I'm a little scared to see what the numbers will be this year." The shop also has a Paint-Your-Own Cookie Kit for $15 – think watercolor for sweet treats.
Evans Orchard offers the perfect way to thank a party hostess or add sweetness to your own table for holiday gatherings: Fresh-baked whole apple pies ($20) or the farm's famous fried apple pies ($3.50/each). Pair with a gallon of fresh-pressed apple cider ($8.50) made onsite at Evans' Cider Mill.
Old Friends Thoroughbred Retirement Farm presents more options for equestrians and equine enthusiasts . . . Here's a unique way to slice and dice: A Horse Head or Jockey Silks Cutting Board/Cheese Board ($20), both handcrafted in Kentucky. Give family and friends something to page through while awaiting the dinner feast with The Art of Old Friends, a beautiful four-color coffee table book featuring original images of Old Friends horses by Dagmar Galleithner-Steiner, the renowned equine artist ($39.95).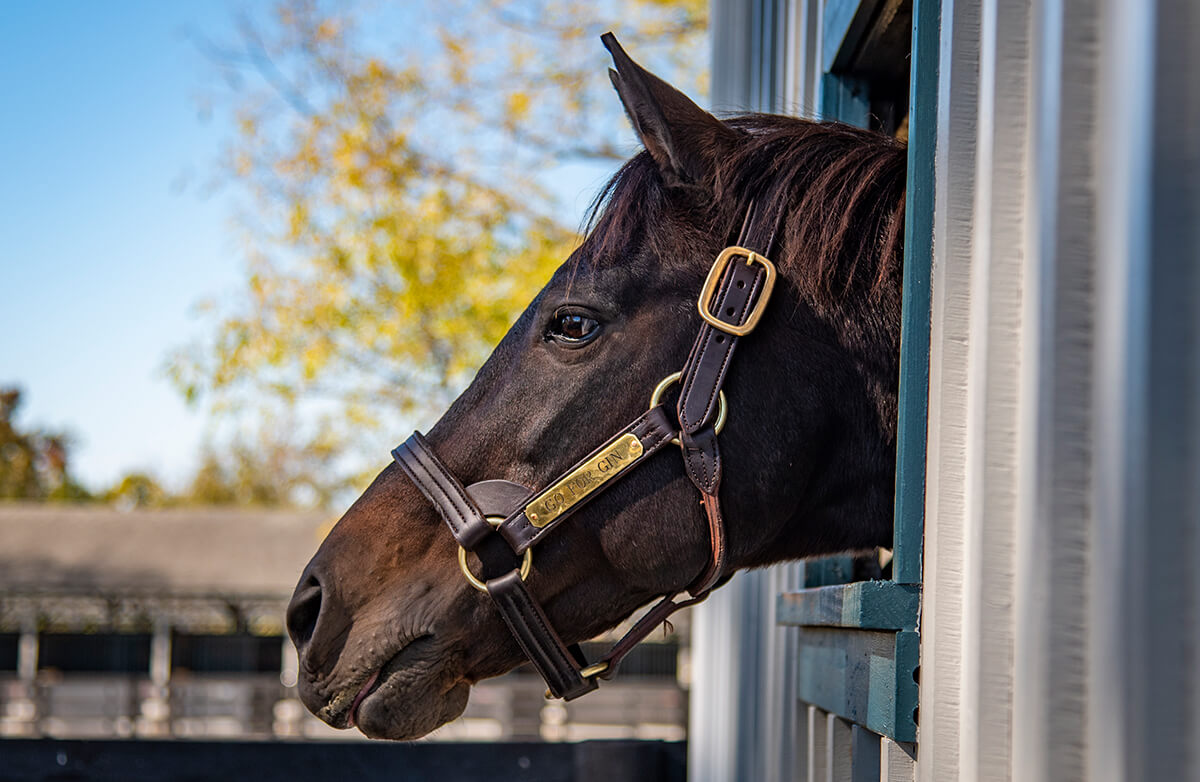 Kentucky Horse Park: Claim a piece of history for a horse lover with this halter that belonged to Go for Gin, the world's oldest living Kentucky Derby (gr.1) winner. Now 28 years old, Go for Gin won the 1994 Kentucky Derby and is a resident of the Kentucky Horse Park's Hall of Champions. (Halters are available from all of the Hall of Champion residents, including Funny Cide, 2003 Kentucky Derby and Preakness Stakes winner, and Point Given, 2011 Horse of the Year, Preakness Stakes and Belmont Stakes winner.) A certificate of authenticity is included. $159.99
Georgetown/Scott County Tourism: Drop by the Welcome Center for a selection of Georgetown-branded merch that will let your favorite Georgetownians show their spirit for Kentucky's Horse Headquarters: short-sleeved horse tees in heather maroon and royal blue, plus hats, drinking glasses, koozies, books and more. Horse tee special: one for $20; two for $30.
Toyota Motor Manufacturing Kentucky lets you unwrap the Queen Mother of Major Gifts: a brand new Toyota Camry, like this 2019 Camry SE – so shiny it doesn't even need a bow. Starting at $25,800