Travel as far away as the American West and Asia without adding more than a handful of miles to your car. Because of the pandemic, travelers have been uncovering or rediscovering the joy and adventure of exploring close to home. But that doesn't mean you can't get away to parts unknown. The Georgetown Jail Trail, the Deadliest Catch, Around the World – pack up and hit the road on these themed travel jaunts that give that far-away flavor while keeping you safe near home.

Get your meditation on in the sister-city of Tahara, Japan.
• Yuko-En on the Elkhorn: Find serenity in this four-season, five-plus acre Japanese-style strolling garden filled with Kentucky native plants. The Kentucky-Japan Friendship Garden is a world filled with waterfalls, graceful sculptural elements and a Japanese-style stone garden that inspires quiet reflection.
• Anniemals: This is the working art studio of Annie Brady, who does Raku firing at Yuko-en and usually has a few pieces of pottery for sale, along with paintings, drawings and other works.
• Thai Garden Restaurant: Tuck into dishes that have some customers swooning, like the Chicken Pineapple Fried Rice and Drunken Noodles.
• Country Boy Brewing: The four country boys who founded what has become one of Kentucky's most famous watering holes bring a Japanese ethos to their beermaking. "The Japanese are known as extremely good craftsmen," says co-owner DH Harrison. "We like to pay homage to the culture, the importance of quality and dedication to craft."
• Bleubird Studio: Book a yoga class or grab your mat and to solo to the yoga studio of this new three-story home, featuring two private guestrooms, each with en suite bath. Rock away the day on a balcony porch overlooking farmland.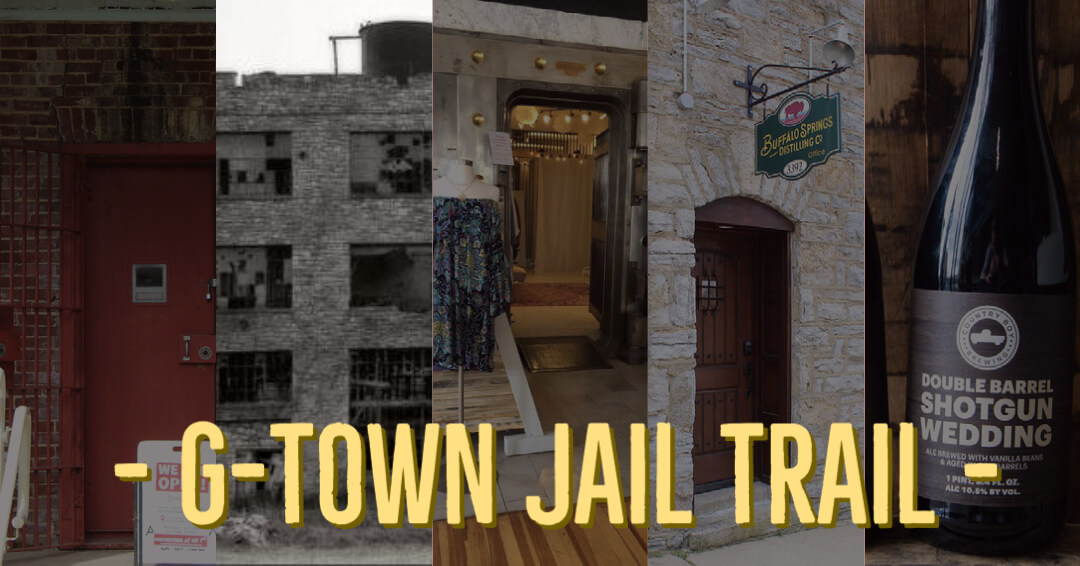 A checkered past? Georgetown? Follow the trail for tales of bank robbers and old jails.
• Royal Spring Welcome Center – The staff at the Old Scott County Jail used to welcome prisoners. Now the staff greets visitors to Georgetown in the same space, which also has an exhibit about the adjacent Old Jail.
• Historic Stamping Ground Jail: See the brick two-cell jail built circa 1890 at 3374 Main Street that became famous for surviving two fires and a tornado.
• Historic Buffalo Geocaching Trail: The outlaw Jesse James never spent time in the Stamping Ground Jail – but he did visit relatives in the area and had a personal tie to one particular house in this tiny town, the place where his parents married on Dec. 28, 1841. Find it at 406 Locust Fork Pike.
• Abby Mae's: A changing room in the bank vault, a bullet hole in the bathroom. In 1929, a would-be robber – a bank president no less! – shot himself here; nearly 100 years later, shop owner Sarah Christian has filled the space with clothes so cute, it's nearly criminal.
• The Kitchen at Country Boy Brewing: Dip a jumbo Bavarian pretzel in Nacho Bait Beer Cheese and wash it down with a can of Shotgun Wedding
• Buffalo Springs Distillery: This Airbnb was never a jail, although with its stone façade, one might think it had a prison past. But no. The building once housed the main office and gatehouse of the former Buffalo Springs Distilling Company and you can now book the entire residence as your plush and private getaway.
Cowpokes and quilters, hatchets and horses, patchwork patterns and pizza pie. Take a trip to the American West by stagecoach-style passenger cars.
• Whispering Woods Riding Stables: Ride like a cowboy or girl across the open prairie – in this case, 250 acres of Kentucky backcountry.
• Buffalo Gals Quilt Barn Trail: Quilting bees are a uniquely American social custom that once thrived among pioneer women. This driving tour lacks the gossip that accompanied quilting bees back then but not the beautiful handiwork of the needlesmiths.
• Georgetown & Scott County Museum: Stagecoaches were a familiar site in the American West and three precision-model stagecoach-style passenger cars are on display in the museum's DeWitt Collection, built from scratch in cast aluminum, brass, hammered steel sheets and wood.
• Birdsong Quilting, Embroidery and Crafts: Fabrics, notions, sewing machines, classes – it's the kind of shop pioneer women pined for.
• FatKats: Bite into pizza worth circling the wagons for – the award-winning Cowboy Extreme, a mouthwatering pie topped with barbecue sauce, cheese, chicken, onions, bacon and banana peppers.
• Queenslake Bed and Breakfast: Horses, wide-open spaces, lakes – it's as peaceful as the Old West at sundown.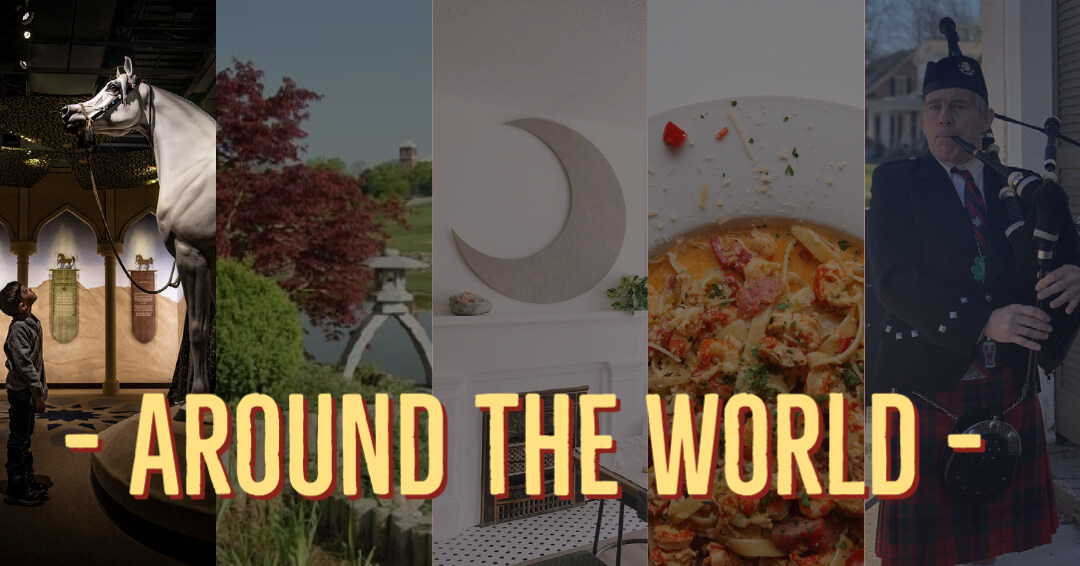 Globetrot three continents – Asia, Europe and North America – from the Arabian desert to a Japanese meditation garden, the Mississippi delta to the English countryside, an authentic Irish pub to a Greek-esque shopping experience.
• Al-Marah Arabian Horse Galleries at Kentucky Horse Park: Journey through art, literature and film in a Bedouin setting to see the horse that changed the world.
• Yuko-En on the Elkhorn: Step through the Tokugawa Gates and enter a spa for the soul and senses.
• Meraki and Moon: My big, fat Greek shopping trip here (meraki is Greek for passion) means poking among the works of 40 visionary artists in a creative market atmosphere. Oh, and there's a wine tap.
• Broussard's Delta Kitchen: Jambalaya, Crawfish Étouffée, Chicken Creole – savor the flavors of The Big Easy in downtown Georgetown.
• Slainte Public House: "May your heart be light and happy, may your smile be big and wide, and may your pockets always have a coin or two inside!" Yes, tipping a pint at this Irish pub brings out the Irish sayings.
• Alexander Bradford House: It may be early 1800s Kentucky, but this home on the National Register of Historic Places feels more "Merry Olde England" with its English cottage sensibility.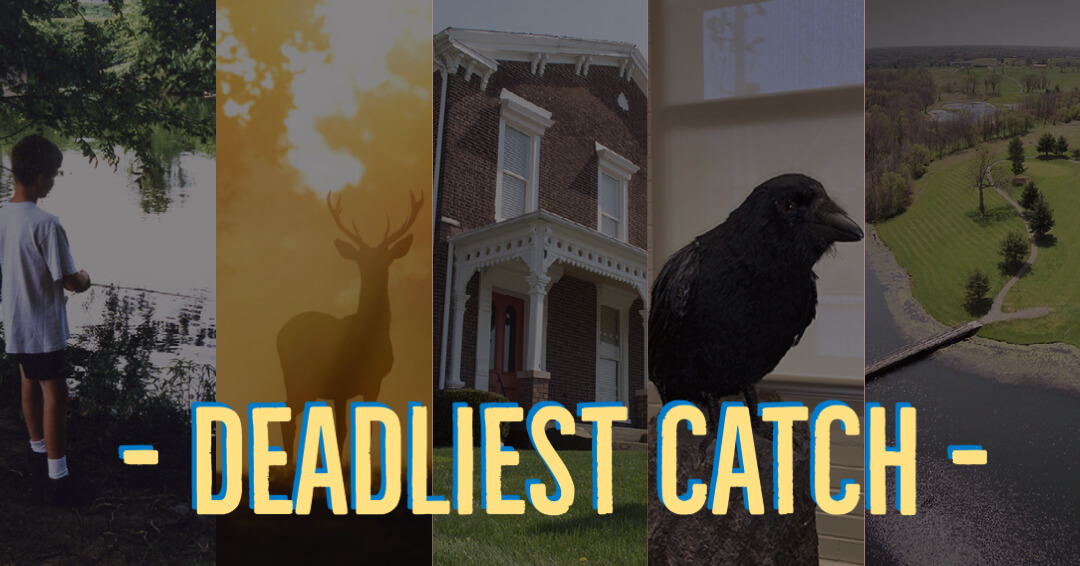 Cast yourself into an adrenaline-pumping episode of the Discovery Channel's wildly popular reality TV series. Okay, so Elkhorn Creek isn't the Bering Sea and smallmouth bass aren't Alaskan king crab, but make no mistake . . . adventure Georgetown-style awaits.
• Fishing at Elkhorn Creek: Navigate gravel shoals, rocky banks and woody debris as you cast your line for smallmouth bass, largemouth bass and rock bass.
• Veterans Wildlife Management Area: Oh the variety! Striped bass, blue catfish, shellcrackers, muskellunge, crappie. And it's not just fishing. There's deer, squirrel, rabbit and turkey hunting, too.
• Georgetown & Scott County Museum: Come say hello to Pete the Talking Crow, who wound up on the wrong end of a deadliest catch, the victim of a rifle-toting kid.
• Bluegrass Outdoor Shop: Gear up for your own deadliest catch adventure at this hunting and fishing outdoor shop. Bonus: Everything is Kentucky made.
• Rodney's on Broadway: Killer seafood is on the menu: char-broiled salmon, panko-crusted grouper and sautéed diver sea scallops and shrimp smothered with the chef's secret-recipe Woodford Reserve bourbon cream sauce.
• Country Boy Brewing: Ask for a cold Cougar Bait – it's the one with the guy fishing on the can.
• Longview Stay and Play: No deadly wildlife – just a great location right next to the first tee at these golf course apartment units.