Lights! Candles! Action! Holiday fun in and around Georgetown
Written by Kathy Witt
Christmas events typically kick off Thanksgiving Day weekend, but a year monopolized by pandemic news calls for an early holiday kickoff. Thankfully, Southern Lights – a beloved holiday tradition for families for 27 years and one of Kentucky's top 10 Winter/Holiday Festivals and Events – starts the celebration on Sunday, Nov. 22.
Through Dec. 31, the timeless animated holiday displays at the Kentucky Horse Park will unspool over three miles to enchant all with the glow of thousands of lights and put a smile on the face of every member of the family.
"We are excited to provide families a safe and fun holiday experience during these unprecedented times," said Chris Nentwick of the Kentucky Horse Park Foundation/Southern Lights. "This year Southern Lights will look a little different due to Covid-19 restrictions, but we have been thinking outside the box to bring holiday cheer for our guests."
Chris noted that Santa Claus will be incorporated into the driving route so children will still be able to say hello while remaining safely socially distant in their cars. Not to worry, Mom and Dad: They'll be able to drop off their Christmas lists in Santa's North Pole mailbox. At the end of the route, guests are invited to explore Animal Land and purchase everyone's favorite Southern Lights snack, Kettle Korn, along with holiday beverages.
"All attractions will be abiding by COVID-19 protocols set by the state of Kentucky," Chris added.
Because Southern Lights is held at one of the world's most iconic venues – the Kentucky Horse Park – families get the added treat of seeing not only displays celebrating the symbols of the season, but also a variety of vignettes that honor Kentucky's equine heritage as well.
Southern Lights – information/tickets/fees: www.southernlightsky.com, www.facebook.com/southernlightsky, 859-255-5727.
---
Beginning on Friday, Nov. 27, the admission-free ChristmasTime at the Ark Encounter shows why this event, with its magical light-trimmed setting, has also become a Christmas fave for families.
Enjoy a spectacular Christmas video sharing the hope of Christmas on a state-of-the-art, 70-by-22-foot LED screen. Marvel at the life-size ark and garden, illuminated in thousands of rainbow-colored lights. Step inside the heated indoor petting zoo to say hello to the animals. Join in singing traditional Christmas carols and catch a concert with Grammy-nominated Steve Hess & Southern Salvation.
"In the evening, guests will love walking the grounds as they view the thousands of stunning lights and watch the spectacular and constantly changing colorful lights illuminating the life-size 510-foot-long ark," said Ken Ham, CEO/Founder of Ark Encounter.
See the lights from the night sky on the Ark's Screaming Eagle Zip Lines. Check everyone off your gift list at the massive fair trade market and gift shop, choosing from handmade gifts from all over the world, along with toys and stuffed animals, books and DVDs and more. Treat yourself to some festive food and drinks at one of the outdoor booths and specialty snack stands or head inside to Emzara's Kitchen for a hearty meal.
ChristmasTime – information/tickets/fees: www.arkencounter.com/christmas. NOTE: Face coverings are required to enter and are to be worn where you cannot reasonably social-distance.


---
**This year's Christmas Candlelight Tours have been canceled due to the COVID-19 pandemic in consideration for the health and safety of guests and volunteers. Please visit us for our final Open House Dates of 2020: November 7, 8, 14 and 15, 2020.
The landmark antebellum mansion, built for $50,000 in gold over 160 years ago, is recognized as one of the great architectural masterpieces of America and features 27-foot-high fluted Corinthian columns, magnificent plasterwork and a breathtaking double elliptical staircase.
With a theme of "Christmas through the years," the historic home will give visitors a look, through decorations and customs, at how Christmas has been celebrated over the past 200 years. Guides in period dress will add to the feeling of being part of an old-fashioned Christmas.
"Ward Hall is one of the most intact antebellum mansions in the nation, making Christmas here unique among the many historic candlelight tours of the season," said Ron Bryant, Ward Hall Preservation Foundation Board Chair. "The holiday ambiance always gets visitors in the spirit of the season."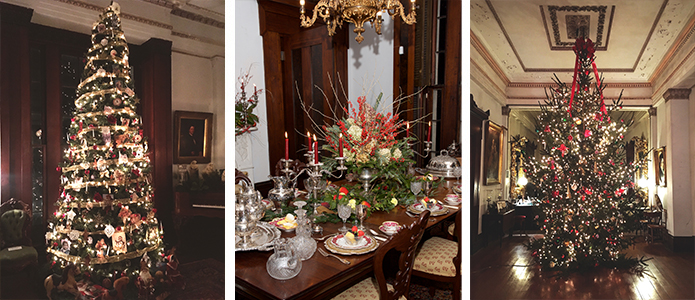 ---
Author: Kathryn Witt
Kathryn Witt is an award-winning travel and lifestyle writer, syndicated columnist and author of several books, including Secret Cincinnati, The Secret of the Belles and Atlanta Georgia: A Photographic Portrait. A member of SATW, Authors Guild and the Society of Children's Books & Illustrators, she lives in northern Kentucky.
---
---