Kentucky's Horse Headquarters hops with horse activity
The calendar page has flipped to April and everyone's mind has turned to horses, especially in Georgetown, Kentucky's Horse Headquarters.
Photo by Hockensmith Fine Arts
It's time to place your bets at the Spring Meets at Keeneland, an internationally renowned racecourse and National Historic Landmark located less than 25 minutes south of Downtown Georgetown. Not a gambler? Keeneland is known far and wide for the sheer beauty of its grounds, which may be experienced first-hand on a variety of tours: the Backstretch, Owner's Experience and Behind-the-Scenes Racing.
Photo by Hannah Sither Photography
One hundred thousand spectators can't be wrong! Coming right on Keeneland's heels is the Land Rover Kentucky Three-Day Event, April 25-28 – one of the most prestigious equestrian competitions in the world and the only Four Star Event in the Western Hemisphere. Witness some of the best horses and riders from all over as they're put through the paces of this Olympic sport of Eventing.
Photo by Hockensmith Fine Arts
Pet horses at Kentucky Horse Park. They love attention, especially after the Horses of the World show or a horse-drawn trolley ride or during a trail or pony ride. Explore the museums (there are four! – each devoted to a different equestrian theme) and catch the Parade of Breeds Show. This is also the place to make a pilgrimage to see the most famous Thoroughbred race horse of the 20th century, Man o' War. His pictures from Three Hill Farm memorial is on park grounds.
Photo by Hannah Sither Photography
Another place to pet horses – and feed them carrots – is Old Friends Thoroughbred Retirement Farm. One of the star residents here is Kentucky Derby Winner Silver Charm – and he is a charmer. Silver Charm is always up for carrots and photo ops, as is movie star, Popcorn Deelites. He played Seabiscuit in the movie of the same name. More than 175 stars of the turf make their home here and they love to relive their glory days with visitors.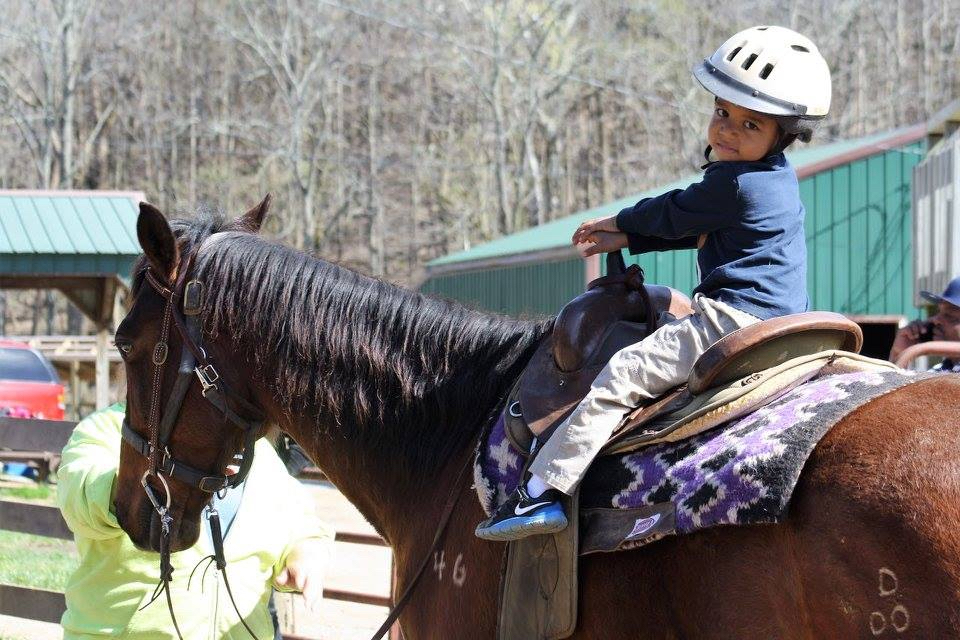 Enough with the petting already; it's time to ride! Saddle up at Whispering Woods Riding Stables, where you can tap into your inner cowpoke and ride like the wind over 250 acres of rugged Kentucky backcountry. Coming up May 25-27 is Wild West Weekend, filled with old-fashioned family fun like face painting, cactus ring toss, stick horse races, rattle snake round-up/panning for gold, Western Bingo, dollar pony rides and much more.
Looking for a more refined equestrian experience? Three Hill Farm has the answer with its hands-on Horsemanship Training Experience. These professional clinics focus on the basics – how to groom and saddle a horse and riding and handling techniques – as well as the farm's philosophy of how a horse thinks. Trail riding to improve horsemanship skills may also be incorporated into the lesson plan.
Photo by Hockensmith Fine Arts
Take a memory home. Stop by the two Georgetown galleries devoted to equestrian art: Fine Art Editions Gallery & Press – home of the equestrian photography and gorgeous coffee table books of John Stephen Hockensmith, including Spanish Mustangs in the Great American West – and the Robert Clark Gallery, where the second edition of A Brush with Greatness – The Art of Thoroughbred Racing North American Horses From 2000 to Triple Crown, featuring Clark's original oil paintings, has just arrived.