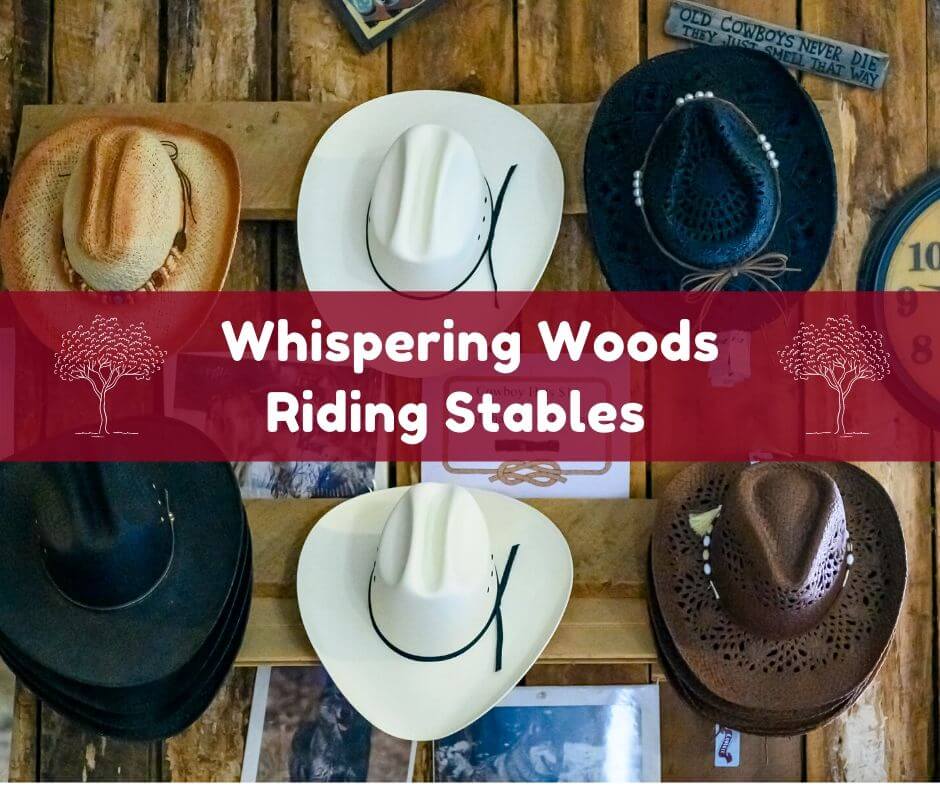 A Home to Natural Social Distancers
and Scenic Countryside
Written by Kathy Witt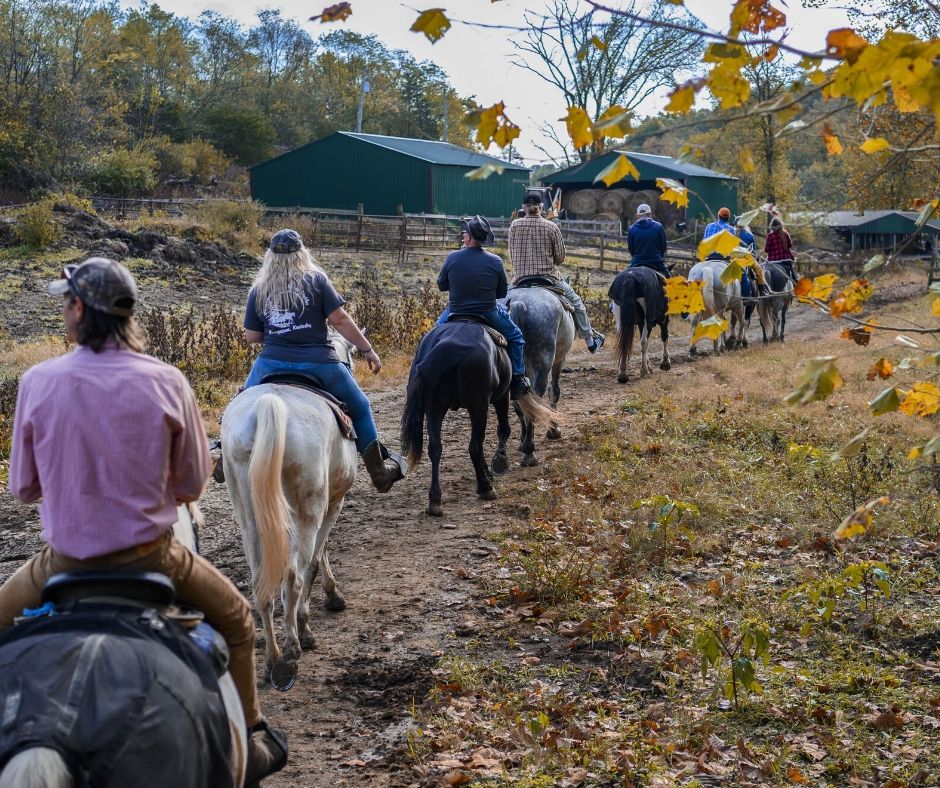 If Kentucky has one perfect measuring stick for social distancing, it is the horse. At approximately eight feet long, horses have been social distancing long before the term ever came into popular usage, as it has during the pandemic. And Kentucky is fortunate to have lots of horses, especially in Georgetown – the state's unofficial Horse Headquarters.
At Whispering Woods Riding Stables, located north of Lexington, KY in Georgetown, two dozen healthy and beautiful horses give experienced and would-be equestrians a chance to get outdoors and explore some of the state's most scenic countryside on 250 acres of untouched, wooded trails – while naturally social distancing. Breeds include Tennessee Walking Horses, Appaloosas, American Paint Horses, a Shetland Pony and a Gypsy Vanner Cross described as "straight out of a fairytale" – the type of "proud steed that knights rode in days of olde."
"The best way to see Kentucky is by horseback," declared veteran trail guide Jessi Wilbers Cummings. "You'll be swept away from the trials and tribulations of civilization, out in the woods, blazing the trails just like the explorers of yesteryear."
Trail rides are guided, but you won't see a ring in sight. Rather, horseback riders – children and adults alike – head into rugged terrain, riding over hills, along creeks and into lushly wooded swales darkened beneath leafy canopies. Keep an eye on the landscape: You may spy a doe and her baby, squabbling wild turkeys or other frisking wildlife.
The grounds of the stables accommodate both cars and horse trailers, and are dotted with covered pavilion with picnic tables, playground, free petting zoo and a small tack shop. Adding ambience are a rustic cabin squatting by the pond, streams meandering through hardwood forests and plenty of "locals": racoons, foxes, skunks.
"Whispering Woods is an all-in-one stop," said Wilbers Cummings. "We welcome people to come by and see our animals and bring them treats. We offer both pony rides and long scenic trail rides. We can do birthday parties or just offer parents a place to rest while the kids play.
"Horsepersons are welcome to bring their own horses and use our trails if they don't have woods f their own," she added.
Like so many other venues in various stages of reopening amidst the pandemic, Whispering Woods Riding Stables has taken a number of steps to ensure the safety and health of visitors and employees alike. Group sizes are now smaller, ensuring parties are 10 or less, including riders and guide. Private rides are available for families that may not want any contact with others. All equipment is sanitized between rides. An outdoor sink and handwashing station with plenty of hand sanitizer has been added.
With limited ride sizes, Wilbers Cummings noted that accommodating walk-ins has become a bit more challenging these days. Visitors are requested to make a reservation so staff can have horses ready for them.
"Luckily we are out in the sun and fresh air and the horses keep us all six feet apart."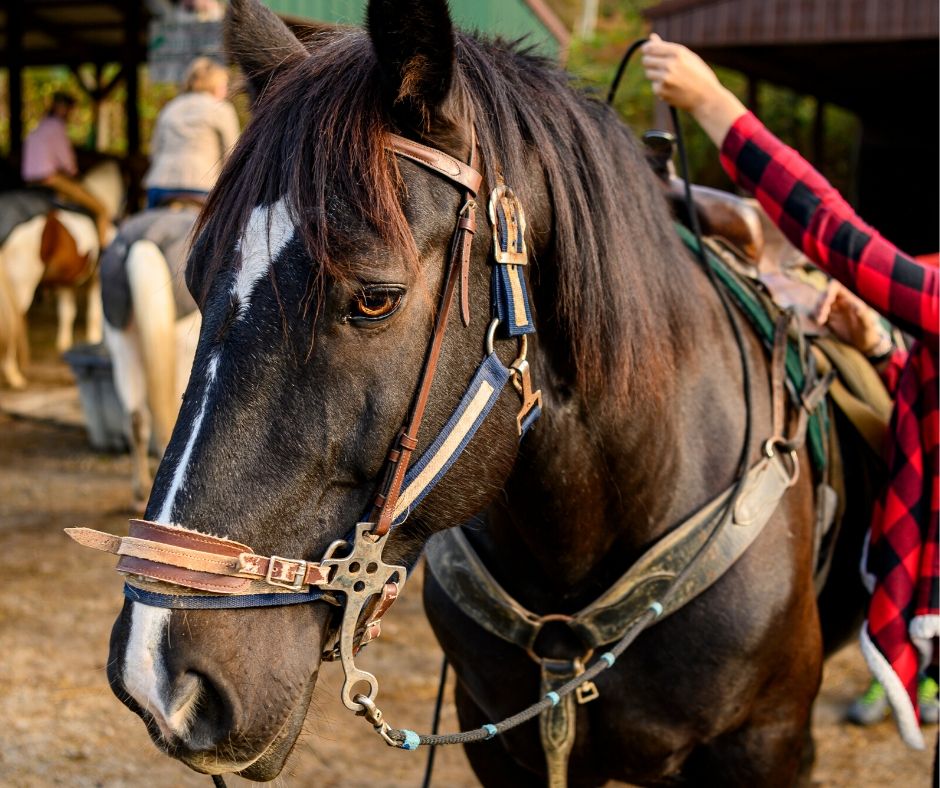 Whispering Woods Riding Stables is among a number of horse-related attractions in Georgetown. Others include the Kentucky Horse Park, Old Friends Thoroughbred Retirement Farm and the Three Hill Farm Horsemanship Training Experience. Located in Georgetown's picturesque and historic downtown are the Steve Hockensmith Fine Art Gallery and Robert Clark Gallery – both devoted to equestrian art.
Georgetown is also home to the Festival of the Horse, admission-free, music-centric festival that which celebrates its 40th anniversary this year. Currently planned for September 10-12, it brings togethering headlining local and regional musicians, arts and crafts vendors, craft beer garden and festival foods, family-fun activities including amusement park rides and events like the Grand Parade of Horses all in celebration of the role of the horse and its heritage.
For visitors planning an adventure to Whispering Woods, Georgetown offers a number of unique lodgings that a single travel party can rent for their own use. One such place, particularly well-suited for families, is the new Bleubird Studio. Airy and appealing in its robin egg's blue exterior, the three-story house features no-contact entry, a kitchenette for meal prep, washer and dryer and two guestrooms – each with en suite bath and a shared balcony. (See our article on this stay)
The balcony overlooks a genteel sweep of farmland dotted with stands of trees but is located in the historic downtown with activity and a variety of dining options nearby – everything from coffee shops to cafés to fine dining restaurants (and most locally owned).
Two geocaching trails, the Scott County Geo Trot, with a stop at Yuko-En Japanese Garden – the official Kentucky-Japan Friendship Garden and only one of its kind – and the Historic Buffalo Geotrail, with its surprise Jesse James connection, are in the area. Elkhorn Creek – Kentucky's longest as well as one of its prettiest creeks – beckons water babies with miles of canoeing, kayaking and fishing. Additionally, several nearby, family-friendly farms offer a farmers market bounty of fresh produce and other goodies available for purchase.
For more information about traveling to Whispering Woods Riding Stables and Georgetown, KY, visit www.georgetownky.com.