Things To Do In Georgetown This Fall
9/16/19 Written by Natalie Partin
Fall brings more than just colorful trees and cozy sweaters to town, it also invites festivals, concerts, shopping sprees, Halloween nights, horsey fun and more! Check out the events Georgetown, KY has waiting for you and your family this season.
AutumnFest: Sept. 7-Oct. 31, 2019
Bi-Water Farm & Greenhouse at 877 Cincinnati Rd.
Bi-Water Farm entertains seasonal fun on the farm for the entire family during their AutumnFest, now through Oct. 31. Jump full-force into fall with hayrides, a corn maze, zip lines, bounce house, slides and so much more! This year's AutumnFest features themed nights every weekend with live music, storytelling and yummy smores around a community bonfire. Find the full list of special events and details of each night at biwaterfarm.com/autumnfestadventures/. MORE INFO
Apples at Evans Orchard
Harvest Festival: Sept. 14-Oct. 31, 2019
Evans Orchard & Cider Mill at 198 Stone Rd.
Festival season would not be complete without a visit to Evans Orchard & Cider Mill for their Harvest Festival. Join this 5th generation agritourism farm every weekend until Oct. 31 for 175 acres of adventure. Harvest Festival exhibits a fully equipped play area, pony and hay rides, petting zoo, pumpkins, mums, fodder shocks, and everything else in between. Named Best Place to Go Apple Picking in Kentucky by Reader's Digest, U-pick apples at Evan's Orchard during Harvest Festival is also a must-do. MORE INFO
Live music at Cardome Renaissance Centre
Picnic on the Bluegrass: Sept. 27, 2019
Cardome Renaissance Centre at 800 Cincinnati Rd.
Celebrate fall with local live music, food and drinks with the first annual Picnic on the Bluegrass on Friday, Sept. 27. Head out to Cardome Renaissance Centre from 6 to 10pm for live music featuring Rowan County Boys and My Brother's Keeper, food trucks and cash bar. $20 per carload, bring your lawn chairs and/or picnic blankets! MORE INFO
Seed to Feed at Old Friends Farm
Seed to Feed at Old Friends: Oct. 4, 2019
Old Friends Farm at 1841 Paynes Depot Rd.
Interested in the finer things for fall? Get your ticket to the highly-anticipated Seed to Feed dinner event at Old Friends Thoroughbred Farm. Host chef Justin Thompson of Local Feed will cap the 2019 series with a dinner to remember on Friday, October 4. This is an all inclusive event including cocktail hour, passed hors d'oeuvres, coursed dinner and open bar. Donations will be made to Old Friends. MORE INFO
Country Boy Fall Bazaar: Oct. 13, 2019
Country Boy Brewing at 101 Innovation Way
Take your fall fun to Country Boy Brewing's Georgetown Taproom on Sunday, October 13th for their annual Fall Bazaar. Enjoy an impressive collection of local artists, Country Boy beer, food by The Kitchen, and children's activities from 1 to 6pm. MORE INFO
The Crawl: Tales of the Kentucky Horse Park: Oct. 18-19, 2019
Kentucky Horse Park at 4089 Iron Works Pike.
Discover both equine and human death, disease, and mystery on a walking tour of Kentucky Horse Park's historical grounds! Guests will have the opportunity to participate in fun and "ghostly" activities, build your own s'mores, and enjoy a hot (adult!) beverage or two. Reservations are required for The Crawl, and space is limited each night for the approximately 1.5-hour tour. Reservations can be made by calling (859) 259-4213. MORE INFO
Haunted Trails of Whispering Woods: Oct. 18-19 & 25-26, & Nov. 1-2, 2019
Whispering Woods Riding Stables at 265 Wright Ln.
Halloween in Horse Country starts and ends at the Haunted Trails of Whispering Woods. For only $10 per victim/person, you can take a spooky wagon ride pulled by ghostly horses deep into Whispering Woods Riding Stables' 250-acre wooded terrain. Join in on frightful fun Oct. 18-19 & 25-26, & Nov. 1-2 from 7:30pm to 10pm. For more info, call 502-570-9663. MORE INFO
Vintage Base Ball Day at Ward Hall: Oct 19, 2019
Ward Hall at 1782 Frankfort Rd.
An old-fashioned baseball game set on the grounds of a mansion built circa 1857 is a home run for anyone. Mark your calendars for Sunday, Oct. 19 as Georgetown's Ward Hall hosts their 10th Annual Vintage Base Ball Game. This spirited event gives a glimpse into the historic origins of America's greatest pastime and one of the grandest Greek Revival residences in Kentucky. The first pitch is at 1pm between the Black Bottom 9 from Ohio and the Rising Sun Belle Rivers from Indiana. Admission into the game is $5 (14 & up), $3 (7-13) and free to those 6 and under. MORE INFO
Shopping in Downtown Georgetown
G'Town After Hours: Oct. 25, 2019
Downtown Georgetown
Prepare for the winter months ahead on Friday, Oct. 25 during Downtown Georgetown's Gtown After Hours. Shop at our many antique, gift, and boutique shops as participating businesses extend their hours to 7pm and offer exclusive deals and "can't miss" promotions. MORE INFO
Vintage Market Days: Oct. 25-27, 2019
The Kentucky Horse Park at 4089 Iron Works Pkwy.
The Kentucky Horse Park hosts another Vintage Market Days® in the Covered Arena, Oct. 25-27. This annual shopping event brings an upscale vintage-inspired indoor/outdoor market featuring original art, antiques, clothing, jewelry, home décor, outdoor furnishings, seasonal plantings and more to the folks of Central Kentucky. MORE INFO
National Horse Show at the Kentucky Horse Park
National Horse Show: Oct. 25-Nov. 3, 2019
The Kentucky Horse Park at 4089 Iron Works Pkwy.
All are invited to attend the biggest show jumping event of the year at The Kentucky Horse Park, the National Horse Show. This action-packed 6-day hunter/jumper event begins Oct. 25 and lasts until Nov. 3. Known as one of the top shows in the United States, the week welcomes Olympians and World Champions from across the globe, as well as the nation's top junior riders. In addition to the top-level equestrian competitions, attendees can find family-fun, shopping and more. MORE INFO
Thrilled to Give: Oct. 26, 2019 (rain date Oct. 27)
Main Street in Downtown Georgetown
Georgetown's highly-anticipated thriller event grooves its way to Downtown Georgetown on Saturday, October 26. Picture this - A community thriller parade and costume contest, all to benefit the Amen House. Dance groups and families head to Main Street to see this epic dance, right in time for Halloween the following week. The parade kicks-off at 6:30pm and costume contest at 7:15pm. You can register to dance at www.gscparks.com or come and enjoy the show! Spectators are encouraged to bring canned goods for the Amen House. See you there! MORE INFO
Halloween Downtown
Georgetown College Trick-or-Treat: Oct. 30, 2019
First floors of Allen and Collier Halls at Georgetown College
Bring the kiddos out to Georgetown College on Wednesday, Oct. 30 from 7-8:30pm for safe and fun Halloween festivities. In this community-wide event, children and families will essentially have the "Trick-or-Treat" experience on campus. The event will take place inside the lobbies and first floors of Allen and Collier Halls. There will be activities such as Pin Spider on the Web, Ball Toss, Hook Toss and Giant Games. The children will also be able to Trick-or-Treat from door to door in the first floors of each hall. In addition to candy, refreshments will also be provided.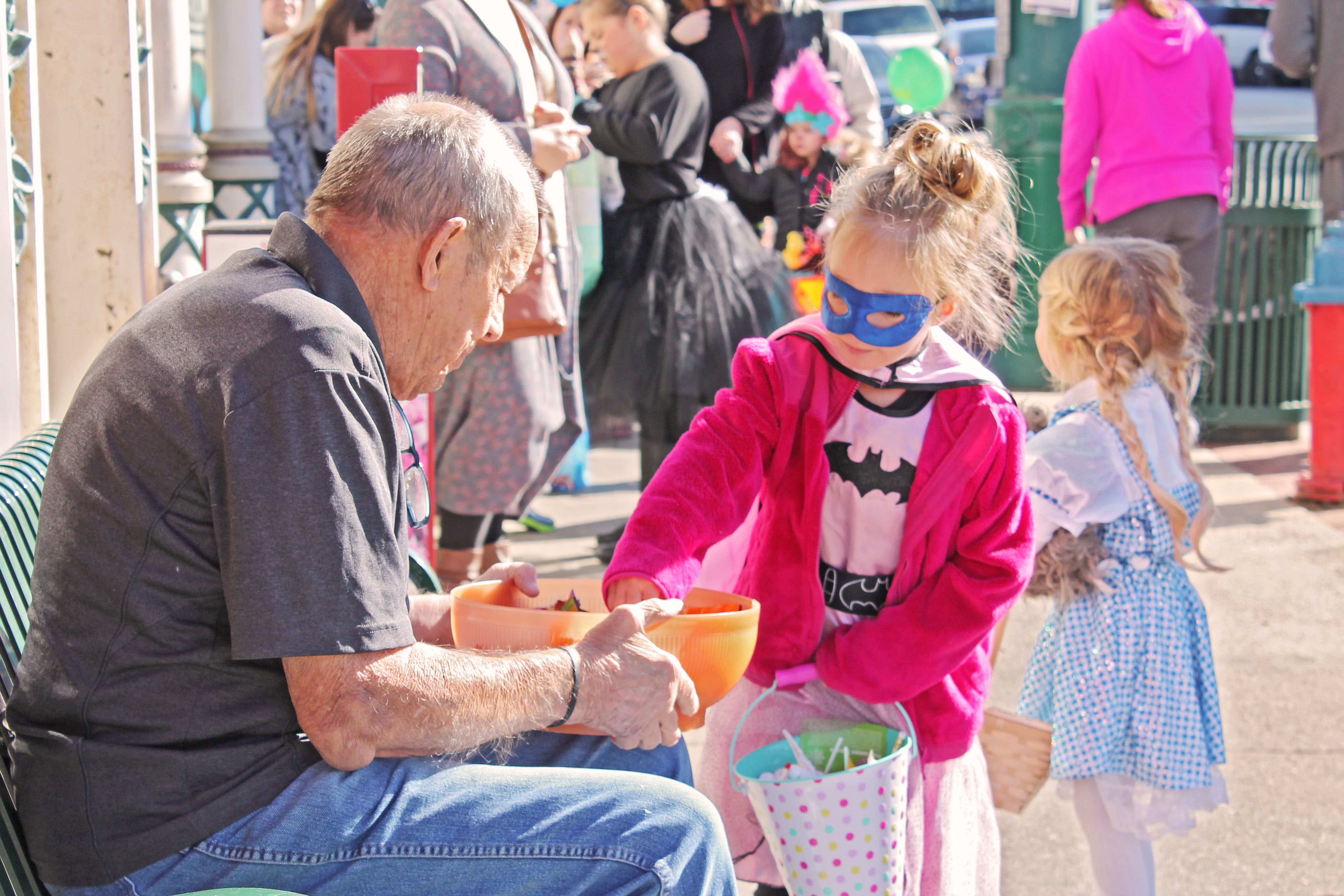 Spook-Tacular in Downtown Georgetown
Spook-Tacular Trick or Treating: Oct. 31, 2019
Downtown Georgetown at 100 Court St.
Celebrate "All Hallows' Eve" in Historic Downtown Georgetown during Spook-Tacular, Oct. 31 from 11am to 2pm. Downtown businesses welcome trick-or-treaters as they prepare activities and pass out candy to kids dressed in costume! Community-wide trick or treating begins at 6pm and goes until 8pm at participating neighborhoods.
Old Friends Farm by Hannah Sither
Outside of events, experience Georgetown's many attractions highlighting Kentucky's fall foilage. Entertainment continues year-round with live music and family activities at local businesses in and outside of our historic downtown district. Looking to do something that'll keep you coming back for years to come? Fall Meet at Central Kentucky's Keeneland Racecourse is another popular October endeavor visitors and locals make a top-priority when in the area. It's no secret, fall is a favorite in Georgetown!
Additional Georgetown, KY events for the season and beyond can be found at georgetownky.com/events.