By: Kathy Witt
This year's Breeders' Cup will be held at Keeneland in Lexington without fans, but there are still ways to enjoy the two-day race and places where you can see Breeders' Cup champions.
As the races unfold over November 7 and 8, and $31 million in purses and awards hang in the balance, the Breeders' Cup may be viewed via NBC Sports & TVG and live streamed through YouTube and Facebook, the new Breeders' Cup mobile app (available in the App Store and Google Play) and the BreedersCup.com website, which also includes morning workouts and the Players' Show.
On the Friday before Breeders' Cup, plan to visit the Kentucky Horse Park for a chance to see racing champion Da Hoss, 1996 and 1998 Breeders' Cup Mile winner, at the Hall of Champions. Catch the white-socked bay gelding in action at the 1996 Breeders' Cup Mile, when he defeated European turf specialists Spinning World and Mark of Esteem, in this clip.
Super-sleuths who know their Breeders' Cup history will want to nip into the park's International Museum of the Horse to see a Breeder's Cup medallion in the W. Paul Little exhibit and a Breeders' Cup Recognition bronze sculpture in the Ted Bassett exhibit.
Although Old Friends Thoroughbred Retirement Farm will not be holding its Breeders' Cup event this year (due to COVID-19), it will be open for limited-sized tours on weekends (10 a.m. and 1 p.m.) Thursday through Sunday.
This is where visitors can meet numerous Breeders' Cup legends: Alphabet Soup (1996 Breeders' Cup Classic); Eldaafer (2010 Breeders' Cup Marathon); Amazombie (2011 Breeders' Cup Turf Sprint); Little Mike (2012 Breeders' Cup Turf Sprint); Work All Week (2014 Breeders' Cup Turf Sprint); and Stormy Liberal (2017 and 2018 Breeders' Cup Turf Sprint).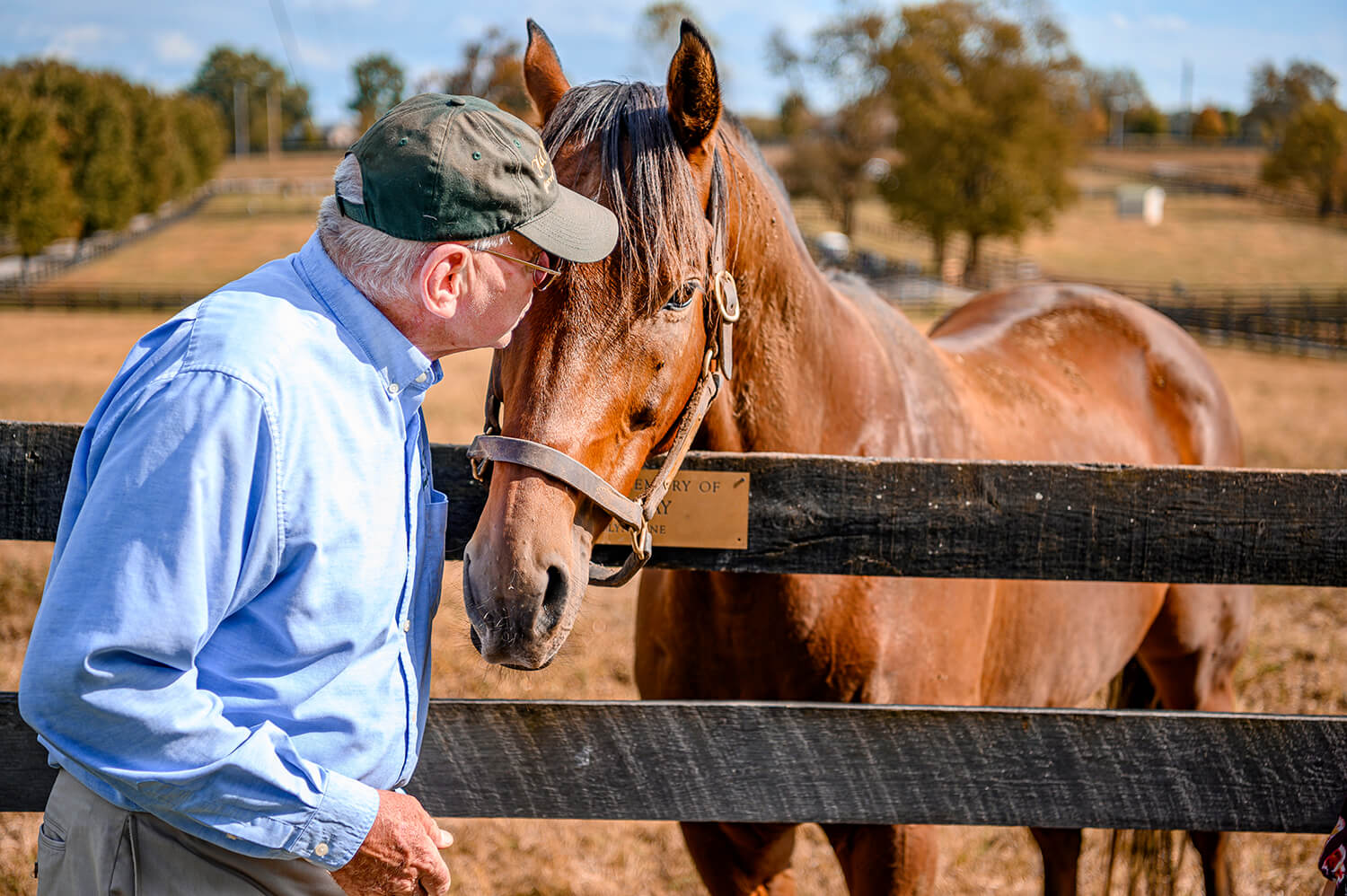 Michael Blowen and Little Mike
Did You Know? Old Friends is also the final resting place of many Breeders' Cup legends as well as other champions of the turf that have passed. The farm has two cemeteries – a Champions
Photo by Laura Battles
Cemetery reserved for horses of special note (Derby winners, Eclipse champions, etc.) and a main cemetery.
"As the mythology goes, it was common to bury a horse's head, heart and hooves – the idea being to represent his intellect, spirit and speed," said Cindy Grisiola, chairperson of Old Friends' board of directors and media coordinator. "As a rule, we cremate our horses. The ashes return in beautiful mahogany boxes that are then buried in our cemetery."
One Breeders' Cup champion, Precisionist, was not cremated but buried in his entirety.
Photo by Laura Battles
"He was also our first Hall of Fame horse, and so he was treated with particular reverence," said Cindy.
According to Cindy, it is considered a special honor to bury a whole horse, although the amount of space needed to do this prevents it from being common practice. Secretariat, Ruffian and Man o' War are among the horses that have been so honored.
---
Author: Kathryn Witt
Kathryn Witt is an award-winning travel and lifestyle writer, syndicated columnist and author of several books, including Secret Cincinnati, The Secret of the Belles and Atlanta Georgia: A Photographic Portrait. A member of SATW, Authors Guild and the Society of Children's Books & Illustrators, she lives in northern Kentucky.